Y
WATCH THE VIDEO!
If there are two things Americans love, it's America and French Fries! We'll eat them anywhere, anytime and with anything… so why not try frying up a crispy batch at home? It's only American!
5 STEPS FOR MAKING CRISPY FRENCH FRIES AT HOME:
1. Use one pound sized Idaho Russet Potatoes.
2. Cut potato sticks as evenly as possible to ensure even frying.
3. Rinse potatoes in cool water and soak in ice water before frying to ensure a fluffy interior and crispy exterior.
4. Fry the potatoes twice: Once at 325(F) and once at 375(F).
5. Season and serve immediately.

NOTES: For more detailed instruction and a few laughs, watch the video! For even more detailed instruction consult this article and this explanation.
LOOKING FOR OVEN BAKED FRIES?


Try my Oven Baked Corn Fries Recipe.
27 MORE IDAHO POTATO RECIPES!


1. Hasselback Potatoes
2. Spicy Thai Potato Salad
3. Potato Tots
4. Potato Cup Frittatas
5. Salt Baked Potatoes
6. Mashed Potato Pizza
7. Cranberry Potato Gratin
8. Potato Volcano
9. Buttermilk Potato Pave
10. Potato Tacos
11. Gnocchi with Brown Butter Mushroom Sauce
12. Crispy Potato Galette with Smoked Salmon and Dill Cream
13. Cheesy Potato Biscuits
14. French Potato Salad
15. Julia Child's Salad Nicoise
16. Bacon Wrapped Potato Skewers
17. Microwave Potato Chips
18. Potato Waffle Croque Monsieur
19. Poutine
20. Low-Cal Red Potatoes
21. Potato Candy
22. Loaded Buttermilk Mashed Potatoes
23. Classic Mashed Potatoes
24. Monster Stuffed Baked Potato
25. Mashed Potato Pops
26. Idaho Potato Cinnamon Rolls
27. Hash Brown Eggs Benedict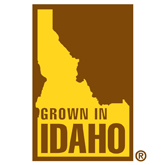 For more great recipes using Idaho Potatoes, check out the Idaho Potato Commission Website.

Don't miss a video… SUBSCRIBE TO AVERAGEBETTY on YouTube!