Y
Total Confusion Cuisine. Mashed Potato Pizza isn't just fusion cuisine… it's confusion cuisine. Topped with just about anything and served at any meal of the day, Mashed Potato Pizza is total confusion! All this mayhem starts with a big bowl of Idaho Mashed Potatoes, and some homemade Pizza Dough. A Huevos Rancheros Mashed Potato Pizza and a Mushroom Ham Mashed Potato Pizza aren't far behind. Watch the Mashed Potato Pizza Video and let the confusion begin!
CONFUSION DIFFUSION


Get the recipe for Garlic Mashed Potatoes as seen in the video.

Get the recipe for Pizza Dough as seen in the video! Choose from Original Pizza Dough, Whole Wheat Pizza Dough or White Whole Wheat Pizza Dough.

Put it all together to make Mashed Potato Pizza!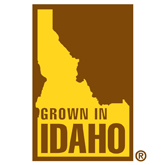 For more great recipes using Idaho Potatoes, check out the Idaho Potato Commission Website.