Y
Are Salt Baked Potatoes really worth their salt? With the help of a few expert recipes, a boatload of salt and one very curious Potato Popper, I put salt baking to the test with Idaho Potatoes. Watch the How to Make Salt Baked Potatoes Video and see for yourself!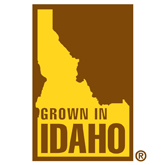 Get the recipe for Salt Baked Potatoes as seen in the video!
For more great recipes using Idaho Potatoes, check out the Idaho Potato Commission Website.

RECIPESalt Baked Potatoes
Print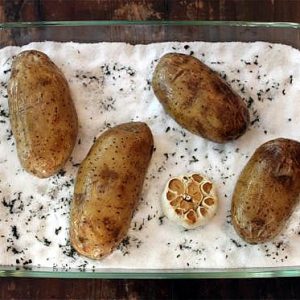 Baking potatoes on a bed of salt produces more flavorful baked potatoes with crispy skin and a steamy, fluffy interior.
Ingredients
4

Idaho Russet Potatoes

8-10 ounces each

2-3

cups

salt

1

head garlic

fresh or dry herbs
Recipe Notes
Serves four. Total bake time one hour, thirty minutes. Consider making Roasted Garlic Butter from the garlic after baking in the salt. Simply squeeze softened cloves from husk and mix with room temperature butter. Add any other herbs, seasonings or citrus. Serve Roasted Garlic Butter with piping hot Salt Baked Potatoes and other toppings such as sour cream, chives and bacon bits. For added instruction and entertainment and to see the Potato Popper (above, left) in action, watch the How to Make Salt Baked Potatoes Video.
Instructions
Wash and dry Idaho Russet Potatoes.

Pour salt into a 9x13 baking dish. Nestle potatoes in the salt, equal distance apart. Optionally, add a capped head of garlic and herbs of your choice to the salt.

Cover the baking dish with aluminum foil and bake in a preheated 450(F) oven for one hour, fifteen minutes.

Remove baking dish from the oven and preheat oven for a second time to 500(F).

Remove foil from baking dish and remove garlic from salt. Squeeze garlic from husk if using for butter.

Brush the tops of each potato with olive oil and return, uncovered, to preheated 500(F) oven. Bake for 15-20 minutes more.

When the potatoes are done, use a clean towel to chip excess salt from the bottom of each potato. Serve immediately with your favorite toppings.
Print