Y
The biscuits with the cheese all up in 'em!
You know when you go out to eat and the bread basket arrives? You peek inside the basket and there they are. Those savory, cheesy biscuits you can't stop eating? Well, now you can make those irresistible biscuits in the safety comfort of your own home.
So grab some leftover mashed potatoes (made with Idaho Russets, of course) and watch How to Make Cheesy Potato Biscuits!

Get the Cheesy Potato Biscuits Recipe as seen in the video.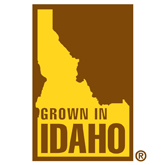 For more great recipes using Idaho Potatoes, check out the Idaho Potato Commission Website.