Y
Crunchy. Meet creamy.
LeCordon Betty is back in session for Potato Lover's Month, dishing up a French classic with an Idaho Potato Twist! And though it may sound intimidating, beyond the Bechamel and Dijon, the Potato Waffle Croque Monsieur is just good ol' Mr. Crunchy.
Watch MR CRUNCHY – Potato Waffle Croque Monsieur to see how it's made and earn your LeCordon Betty Culinary School Credit. If you have a moment, head to my channel on YouTube and SUBSCRIBE.
GRATE IT LIKE GRANDMA!


Watch the video and see me Grate it Like Grandma! Big Thanks to Grandma Ann's for providing me with the first and last professional Potato Grater I'll ever need. Wow! All I have to say is, "Who wants hashbrowns?"
GET THE RECIPE FOR MR CRUNCHY


Get the Potato Waffle Croque Monsieur Recipe as seen in the video.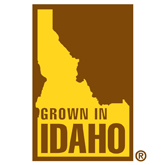 For more great recipes using Idaho Potatoes, check out the Idaho Potato Commission Website.