Y
Let's hope Canadians are as nice as everyone says they are. I think I butchered their unofficial national dish.
Poutine is a traditional Canadian dish of French Fries, smothered in Brown Gravy and topped with Cheese Curds. Because my brother-in-law recoiled at the mention of Poutine (he's from Quebec), I queried fellow YouTube Next Chef, Jay del Corro aka MrJingJong aka TheAimlessCook. Jay was born and raised in Calgary, Canada and still lives there today. By default, he knows his way around a plate of poutine. For starters, how to pronounce the word properly. Which I still may have mangled.
So, I'm not Canadian. And sadly, all-American Brown Gravy isn't in my repertoire either. But who knows All-American better than Chef John of Foodwishes? Put it all together and you get my Oven Baked All American Idaho Potato Poutine Recipe.
You gotta watch POUTINE! and learn how to make the Valley Girl knock-off of a Classic Canadian Dish. Psst! Stick around for the bloopers at the end!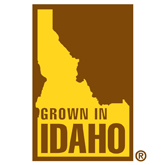 Get the Oven Baked Idaho Potato Poutine Recipe as seen in the video.
For more great recipes using Idaho Potatoes, check out the Idaho Potato Commission Website.