Y
I made up a word! The word is MICROWONK.
mi·cro·wonk [mahy-kroh-wongk] Slang. Noun.
mi·cro·wonky, mi·cro·wonker, mi·cro·wonking
1. Excessively detailed recipe for cooking in a microwave oven.
2. A person who writes or executes recipes for the microwave oven in an assiduous and thorough manner.
You see, I'm not sold on many of the microwonky recipes out there. Take the the microwave mug cake for example. You make the same mess, but end up with a mediocre cake that's kinda rubbery. Just sayin'.
But when I saw this recipe over at The Kitchn, I had to try making Potato Chips in the Microwave for myself!
So call me a microwonk, I don't care. Because I think these crispy Potato Chips are just about the coolest thing to come from my microwave. Just a word of caution, make sure you have some spuds on hand before watching this video.
Watch How to Make Microwave Potato Chips and get microwonky!

Get the Microwave Potato Chips Recipe as seen in the video.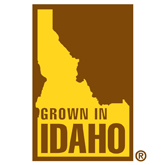 For more great recipes using Idaho Potatoes, check out the Idaho Potato Commission Website.