Y
Click for printer-friendly version!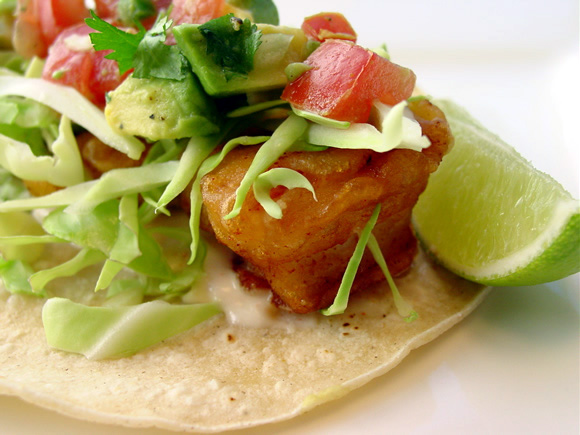 Classic Beer Battered Baja Fish Tacos are my favorite! This original recipe is made in the true spirit of Baja, but I have been known to switch things up.
**UPDATE** For a lighter version, try the Grilled Fish Tacos Recipe.
Ingredients for Baja Fish Tacos:
1 pound whitefish cut into 2 inch pieces (Mahi Mahi)
Avocado Relish:
1/2 cup diced tomato
1/4 cup diced jalapeno
1 tbsp chopped cilantro
1/4 cup diced onion
1/2 cup diced avocado
fresh lime
salt, pepper
White Sauce:
1 1/2 tbsp plain yogurt
1 1/2 tbsp mayonnaise
fresh lime
dash hot sauce
Beer Batter:
3/4 cup beer (Dos Equis Amber)
3/4 cup flour
1/2 tsp salt
Garnish:
1 cup finely shredded cabbage
8 corn tortillas (or 16 if you like 'em doubled)
your favorite hot sauce
fresh lime wedges
Make the Avocado Relish:


In a bowl combine tomato, jalapeno, cilantro, onion, avocado, fresh lime, black pepper and salt. Stir together. Set aside.
Make the White Sauce:
In another bowl combine yogurt, mayonnaise, a dash of hot sauce and a squeeze of lime. Stir together until smooth. Set aside.
Prepare the Fish:


In a third bowl combine flour, salt and your favorite beer (or sparkling water if you don't care to use beer). Stir together until smooth. Batter will have the consistency of thickish pancake batter. Add fish pieces to flour mixture. Coat thoroughly. Heat canola oil in a tall-sided heavy pot/pan over medium-high heat. Slowly add battered fish to oil and fry 3-6 minutes total. Remove from oil and drain on a paper towel. Sprinkle with sea salt.
Assemble the Fish Tacos:


On a warmed (preferably a little charred) corn tortilla, spread the yogurt mixture. Add a few pieces of fish. Top with a sprinkling of cabbage. Serve with lime and avocado relish. Squeeze lime over cabbage and top with avocado relish. Makes 8 tacos.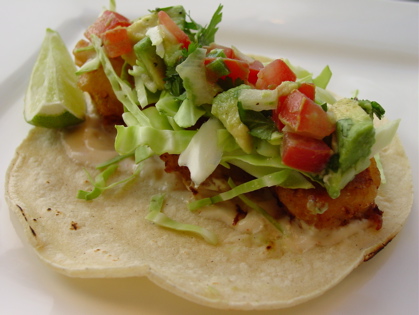 Search terms: betty #38, baja fish taco recipe, fish taco recipe, fried fish taco recipe, beer battered fish taco recipe, beer battered fish recipe, avocado relish recipe, fish taco sauce recipe, white sauce for fish tacos, yogurt sauce for fish tacos, fish tacos like rubio's, baha fish taco recipe, avocado salsa recipe, beer batter
Link to the Baja-ha Fish Tacos video.
Link to the accompanying Baja-ha Fish Tacos blog post.