Y
WATCH THE VIDEO!
There's a little gastropub in town that we love. It's perfect for late night dining because the food is fresh and dare I say, some of the best bar food I've ever had. They have creative pizzas, a heck-uva mac n' cheese and some seriously fine burgers. You can swap out the fries for onion rings, which are amazing… and you can also substitute a simple side salad. The side salad is just some mixed greens like spinach and arugula, nothing fancy. Until you taste the dressing. That dressing inspired this Lemon Vinaigrette Recipe. After all, you can't eat at a gastropub every night… or every time you want a simple, mixed green salad.
Ingredients for Lemon Vinaigrette:
1/3 cup fresh lemon juice
1 TBSP lemon zest
1 TBSP Dijon mustard
1 TBSP honey
1/4 teaspoon coarse salt
1/4 teaspoon fresh minced garlic
2/3 cup canola oil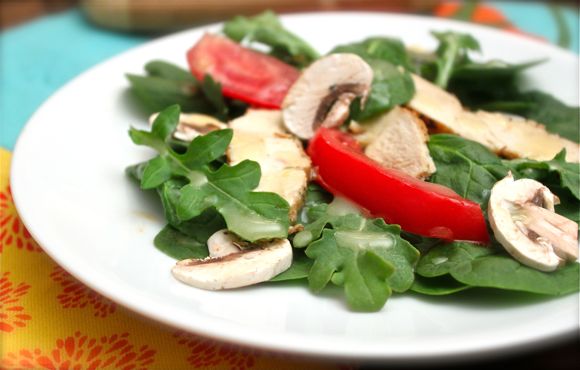 NOTES:
Makes 1 cup dressing. Store in an airtight container in the refrigerator for up to two weeks. For added instruction and entertainment, WATCH THE VIDEO.
Directions for Lemon Vinaigrette:
Combine all ingredients in a jar and shake well.

Use as a salad dressing, a pick me up for steamed veggies or a marinade for seafood and meat.

If you're looking for some of my other favorite dressings, that are just as easy, be sure to check out:
Sesame Ginger Dressing
Fake Caesar Dressing
Balsamic Dressing
Julia Child's Oil and Lemon Dressing
Blue Cheese Dressing