Y
WATCH THE VIDEO!
Not only are these California Avocado Lettuce Wraps an explosion of fresh flavors all wrapped up in a convenient hand-held package, they are so sunny California you'll feel like you need a little extra SPF when enjoying them!
And the salad is versatile too. Enjoy with tortilla chips as a hearty dip or toss with shredded lettuce for a more classic salad presentation. That, you know, you need to eat with a fork.
Ingredients for California Avocado Lettuce Wraps:
2 ripe California Avocados, peeled, seeded and chopped
1 head iceberg lettuce, or similar
1 15 oz. can black beans, drained
1 15 oz. can corn kernels, drained
1 cup chopped grilled chicken
2 pieces crisp bacon
1 cup diced tomato
2 serrano chili peppers, seeded and diced
1/3 cup chopped green onion
1/3 cup chopped cilantro leaves and stems
1/3 cup roasted pepitas
salt & pepper to taste
Ingredients for Lime Citronette:
2 TBSP fresh lime juice
1 TBSP extra virgin olive oil
1 teaspoon honey
NOTES:
Serves 4-6. For added instruction and entertainment, watch the California Avocado Lettuce Wraps Video.
Directions for California Avocado Lettuce Wraps:
1) Cut the bottom off head of iceberg lettuce and separate leaves to form cups or wraps.
2) In a large bowl combine black beans, corn, tomato, green onion, serrano pepper, cilantro, pepitas, grilled chicken and bacon.
3) Drizzle lightly with Lime Citronette and toss.
4) Fold in California Avocado.
5) Season with salt & pepper.
6) Serve in lettuce cups or with tortilla chips.

For added instruction and entertainment, watch the California Avocado Lettuce Wraps Video.

Of course, if you want to make a more legit Lime (or Lemon) Vinaigrette — or Citronette, get the Lemon Vinaigrette Recipe.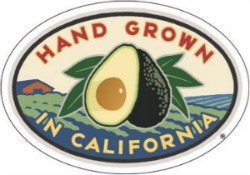 The Average Betty Test Kitchen developed this recipe and produced this video on behalf of the California Avocado Commission.
Nutrient dense California Avocados provide nearly 20 essential nutrients, including fiber, potassium, Vitamin E, B-vitamins and folic acid and enable the body to absorb more fat-soluble nutrients.
For more great recipes using California Avocados, check out the California Avocado Commission Commission Website.

Don't miss a video… SUBSCRIBE TO MY CHANNEL ON YOUTUBE!