Y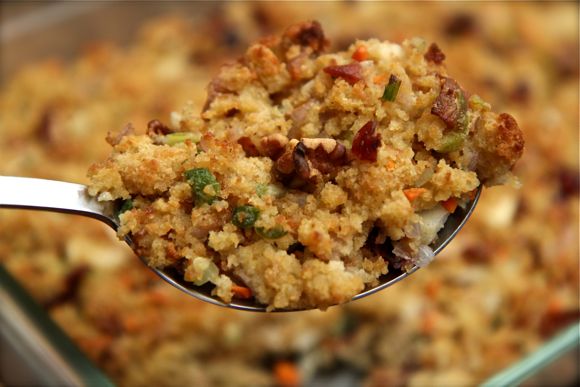 This Sweet and Spicy Cornbread Dressing will add a little kick to your Thanksgiving side dishes. The heat comes from a hint of cayenne and the sweet comes from apples, cranberries, and of course, Sweet Buttermilk Cornbread (recipe included). A Cajun Roasted Turkey is the perfect companion to add some flare to your holiday tradition.
Ingredients for Sweet Buttermilk Cornbread:
1 cup all purpose flour
1 cup corn meal
1 TBSP baking powder
2/3 cup light brown sugar
1/2 teaspoon baking soda
1 teaspoon coarse salt
2 large eggs beaten
1 cup buttermilk
1/2 teaspoon vanilla extract
1/4 cup canola oil
Ingredients for Dressing:
1 TBSP canola oil
1/2 cup diced celery
1/2 cup diced carrot
1/2 cup diced red or brown onion
1/3 cup diced jalapeno
2 cups peeled, cored and diced apples
1 green onion, diced
1 TBSP garlic, minced
2 TBSP sweetened, dried cranberries
6 slices crisp bacon, crumbled
3/4 cup dry toasted walnuts
2 large eggs
3/4 cup heavy cream or half-n-half
2 cups chicken stock/broth
1/4 teaspoon cayenne pepper
1 teaspoon dried parsley
1 teaspoon coarse salt
6 TBSP melted butter

NOTES:
For best results, prepare Sweet Buttermilk Cornbread one day in advance and allow to cool uncovered, overnight, if possible. Makes a 9×13 casserole. Consider serving with Cajun Roasted Turkey.
DIRECTIONS:


PREPARE THE CORNBREAD:
1) Preheat oven to 400(F).
2) Line the bottom of a 9×9″ pan with wax paper.
3) In a large mixing bowl, whisk together flour, cornmeal, baking powder, baking soda, brown sugar and salt.
4) In another bowl, whisk beaten eggs, buttermilk, vanilla and canola oil.
5) Create a well in the center of the dry ingredients and add wet ingredients all at once.
6) Incorporate wet into dry, just until combined.
7) Pour batter into prepared baking pan and bake in preheated, 400(F) oven for 15-20 minutes.
8) Allow to cool (uncovered, overnight if possible) then cut into small squares.
9) Place cornbread pieces on baking sheet and bake in a preheated 375(F) oven for 20 minutes, stirring once mid-way through.
10) Turn the oven off and leave cornbread pieces in the oven to further dry out while you prepare the remaining ingredients.

SAUTE:
1) In a saute pan over medium heat, add the tablespoon of canola oil.
2) Add the celery, carrot, red or brown onion, jalapeno and apples. Saute 5-10 minutes, until tender.
3) Turn down the heat and add the green onion and garlic and cook a few minutes more.
4) Remove from the heat and stir in cranberries, bacon bits and half of the toasted nuts. Set aside.

WHISK:
5) In a medium mixing bowl, whisk together eggs, heavy cream, chicken stock, cayenne, salt and parsley.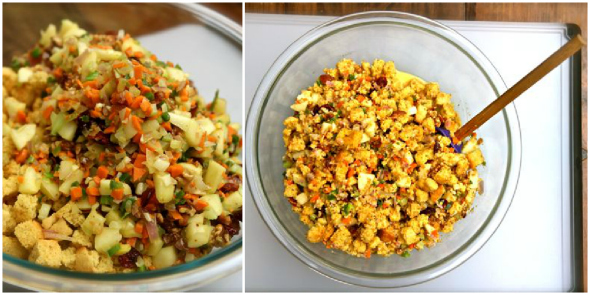 COMBINE:
6) In a large mixing bowl, combine the dried cornbread and sauteed mixture.
7) Pour the contents of the medium mixing bowl into the large and combine thoroughly.

BAKE:
8) Drizzle 2 TBSP melted butter into a 9×13 casserole pan.
9) Distribute moistened cornbread in the pan and cover with aluminum foil.
10) Sprinkle remaining nuts over top of mixture.
11) Drizzle with remaining 4 tablespoons of melted butter.
12) Bake in a preheated 350(F) oven for 20 minutes. Remove the foil and continue baking an additional 10 minutes.

Here's wishing you a sweet n' spicy Thanksgiving!

MORE GREAT THANKSGIVING RESOURCES:
Cajun Roasted Turkey
Brussels Sprouts with Bacon, Butter and Garlic
Roasted Cauliflower
Mashed Potatoes – Three Ways
Cranberry Potato Gratin
Dinner Rolls
Roast Turkey for Beginners
How to Make Gravy
Pumpkin Bars
Barbara Fairchild's Pumpkin Pie