Y
Average Betty is nominated for 3 Taste Awards!
I always say that 3 is my lucky number, but I'm going to need a lot more than luck to bring home another Taste Award.
I need your vote before 5 PM PT, November 27, 2012!!
Please VOTE for Average Betty in these 2 Viewer's Choice Categories:
3. Best Food Program: Web
5. Best Home Chef in a Series
Best of all, you can select up to 3 programs in each category… so Average Betty doesn't even have to be your favorite — only in your top 3!
Thank you so much for your support! Please click here to VOTE.
AVERAGE BETTY + IDAHO POTATOES = WINNING!

Average Betty is also nominated in the category Best Branded Video Promotion or Campaign for video recipes we've produced with the Idaho Potato Commission. This isn't a Viewer's Choice Award… this really is where the luck comes in. LET'S GO IDAHO!!
A PEEK AT WHAT AVERAGE BETTY WAS UP TO IN 2012:


Average Betty in Los Angeles Times
Michael Chiarello at Pebble Beach Food & Wine
Average Betty in LA Weekly
TUNA DYNAMITE with Rock N' Roll Chef Kerry Simon
Average Betty at Food Network Kitchens
Average Betty in UCLA Magazine
Average Betty Makes MANLOAF for The National Turkey Federation
Average Betty's Culinary Tour of Estonia
Average Betty's Visit to Idaho for the Potato Harvest
HOT RIBS – Spicy Ribs for the Man Cave
Peanut Butter Chocolate Chip Cookies – Taste Like Drama
Sara Moulton at the Food + Wine Festival Palm Desert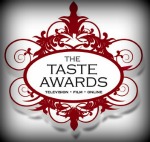 The TASTE AWARDS, also known as the TASTY Awards, are the premier broadcast awards show celebrating the year's best achievements in Food, Fashion, and Lifestyle programs on Television, in Film, Online, and on Radio. Or, as Bobby Bognar notes, "A celebration of people who love to eat and people who don't eat anything at all."