Y

I went on a trip to Idaho to see the Potato Harvest in all its glory. I came home with one very Monstrous Potato and a truckload of awareness about America's favorite unassuming tuber. For starters, did you know that each of us consumes about 140 pounds of potatoes per year?
I didn't travel alone. I was accompanied by my partners in potato harvest: (front row) Patti Londre, Rachael Hutchings, (back row) Julie Deily, Marla Meridith, Dorothy Reinhold, Meagan Micozzi, Nicole Presley, Greg Henry, Ms. Potato Head, Jessica Reddick and Jessica Segarra. Together, we explored farms, met farmers and ate a lot of potatoes.

Taste the Rainbow Ranch. Fourth generation Idaho Potato Farmers, Darla and Jim Hoff (above), opened their home and their airplane hanger for a dinner no one will forget. I mean, when was the last time you dined on a half dozen potato dishes surrounded by historic aircraft, automobiles and motorcycles?

Uncovering Idaho's most valuable gem. As we approached the fields of the Tiede Family Farm, the group was anxious. We sprang from the van and ran towards the noisy equipment spewing waterfalls of russets onto conveyor belts. But I couldn't wait to grab a shovel and dig up a spud!

At the able guidance of Fourth Generation Potato Farmer, Alex Tiede (above), I tossed my iPhone to Travis Blacker and gingerly dug into the damp earth. As I awkwardly maneuvered the shovel, Alex assured me I wasn't going to hurt anything. Before long, he helped me pull up a cluster of russets!
Jim Tiede, Alex's father, says of the mission of a generational potato farmer, "It is harder to be the one to carry on [the potato farm] than start from nothing, because you don't want to ruin something that grandpa worked so hard to build." This message consumed my thoughts and filled my heart as we walked across their fields, taking in the whole operation.

From agriculture to industry. Joined by ringleader Don Odiorne (lower right) we observed the entire potato backstory; from Wilcox Packing and Storage Facility for fresh spuds, to Idahoan Foods to see instant potatoes being processed, packed and shipped.
As the saying goes, if I told you or showed you anymore, I'd have to kill you… so just marvel that one group can look so good in hard hats and hair nets.

The red gem of Idaho is the Klondike Rose Potato, a rose-colored potato with a golden interior. Also farmed and packaged by Potandon under the Green Giant® Fresh label are Klondike Gold Dust Potatoes, which just may be my new favorite spud. Shhh! Don't tell the Russets!

Potandon Tasting! Welcomed by Sprout (top left) and Marketing Supervisor, Barbara Keckler, we dined on gnocchi, clam chowder, casserole and cake pops… all made from potatoes. Even the cake pops! And you can bet your spudnuts I'll be sharing some of these recipes in upcoming videos…

Our final destination on the tater tour across Idaho was at Teton Springs Lodge and Spa for some R&R. Blown away by the luxury accommodations, sunset horseback ride and gourmet dinner at Linn Canyon Ranch, I know I don't speak just for myself when I say we left feeling spudtacular about Idaho's most abundant gem.
Special thanks to Don Odiorne (right) of the Idaho Potato Commission; Inez Be (left) and Sue Kennedy (middle) of Evans Hardy+Young for furthering my appreciation of Idaho Potatoes and providing the epic tour of the gem state.
WATCH THE MONSTER POTATO VIDEO AND SEE MORE FOOTAGE FROM MY TRIP TO IDAHO!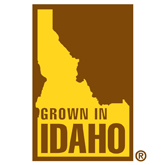 For more great recipes using Idaho Potatoes, check out the Idaho Potato Commission Website.