Y
The Mother Ship. Food Network Kitchens!
Like the Kimchi Idaho Potato Fries with Curry Kewpie Mayonnaise (above) a visit to the Food Network Kitchens is both familiar and exotic. I've been in some pretty amazing kitchens – but this is home to Kitchen Stadium!

From a nondescript elevator in Chelsea Market, a few floors up, the Test Kitchen is alive with familiar sounds, new smells and fresh ingredients. Chefs are heads down, hard at work. Faces from television are around every corner.

Chef Elle Simone prepares an array of inspiring Idaho Potato treats while chef and photographer Latoya Shauntay Snell gets the perfect shot. Don Odiorne, aka Dr. Potato, is no doubt, talking spuds.
I am prepared with a hair-tie and closed-toe shoes just in case there is any way for me to weasel my way in help out in the kitchen.
Fortunately, I'm able to put my Hasselback Potato skills to use.
Also fortunately, I didn't cut myself. Or anyone else.

Then things get geeky. I mean, I get geeky. While the Food Network Tech crew fires up Don's Power Point presentation, they also cue up Potato Volcano. Eeeeeee!

The Test Kitchen chefs dig into the Kimchi Fries (top) and the Idaho Potato Hash Brown & Egg Muffins (above), which are similar to Potato Cup Frittatas. It doesn't take long for the chefs to declare the Kimchi Fries their favorite potato preparation of the day.

Also presented, Canard Frites (above). Idaho Potatoes fried in duck fat with hoisin glaze, crispy duck bacon & duck skin crackling. A trend in Food Service is to take something familiar, like a french fry and pair it with uncommon or exotic flavors.

The top four preparations of potatoes are Fried, French-Cut, Mashed and Baked. Like the Baked Idaho Potato with Wild Mushroom Ragu (above).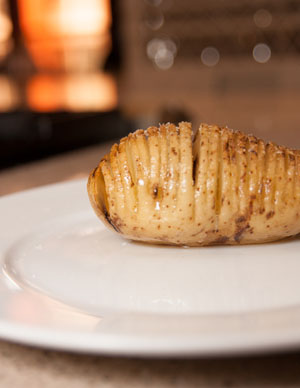 The Hasselback Potato (left) may be the claim to fame of 18th century Sweden, but 2012 was deemed The Year of the Potato by Andrew Freeman & Company.
Their research shows a return to fresh, in-house potato preparation, different presentations such as Potato Bowls (or the Hasselback) and fries, fries, fries.
Idaho Potato is celebrating it's 75th Anniversary this year with the Famous Idaho Potato Truck Tour.
Traveling the country, getting to know home cooks and how potatoes are used in real homes across America, the Famous Idaho Potato Truck Tour raises money for Meals on Wheels and American Heart Association.
Idaho Potato is also celebrating 75 years by working with bloggers like me. The screening of Potato Volcano at Food Network is positively surreal. The Food Network chefs laugh in all the right places and spoil me with a rowdy round of applause at the end.

Test Kitchen Manager, Claudia Sidoti (far left), gives us a tour of the facility, including a peek into a sound stage where Melissa d'Arabian is taping her show. The afternoon culminates with the Food Network Test Kitchen Team in their "tasting room," critiquing creations from the day.
The Test Kitchen has many responsibilities. Of course they test all the recipes for Food Network Magazine and have tastings of all those tested recipes twice a day!
The Test Kitchen also preps ingredients and "the one we made ahead of time" for cooking shows taped on location. A jelly roll for Melissa d'Arabian is doted on while we are there.

I know a lot of home cooks and professional chefs aspire to be ON the Food Network. It is pretty inspirational just being IN the Food Network, too.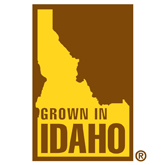 Photo Credits: Kimchi Idaho Potato Fries with Curry Kewpie Mayonnaise and Idaho Hasselback Potato, Latoya Shauntay Snell. Both photos of Sara O'Donnell, Chef Elle Simone.
For more great recipes using Idaho Potatoes, check out the Idaho Potato Commission Website.