Y
Dads love bacon. Almost as much as their kids.
Whether you start Dad's day off with Five Spice French Toast topped with thick-cut, chocolate covered bacon and ginger ice-cream (above) or serve it as dessert after a full day of salty, crispy indulgence, you are sure to score some serious points.
In fact, Chocolate Covered Bacon might be enough to make Dad forget about that time. You know the one I'm talking about. That time.
To make the Chocolate Covered Bacon, follow directions for oven-baking, allow to cool and drizzle with melted white and dark chocolate.

If Dad's in need of something a little more healthy savory, bake up a batch of fluffy Whole Wheat Buttermilk Biscuits and make him a bacon, egg and avocado Whole Wheat Buttermilk Breakfast Slider.
You've gotta have a gift for Dad on Father's Day, but how many ties does the guy need?
From you.
If you planned ahead and ordered him a Bacon Tie (left), it's sure to be the last tie Dad will ever need.
From you.
Since it's too late for this Father's Day, take a little inspiration from Etsy shop owner, Crystal Robinson of Richmond, Virginia and try painting your own.
Considering Crystal needs 3-4 weeks lead-time to hand-paint a custom, silk Bacon Tie, if you order now, for next year, she may be able to paint an entire SILK BACON SUIT!
BAC-ON!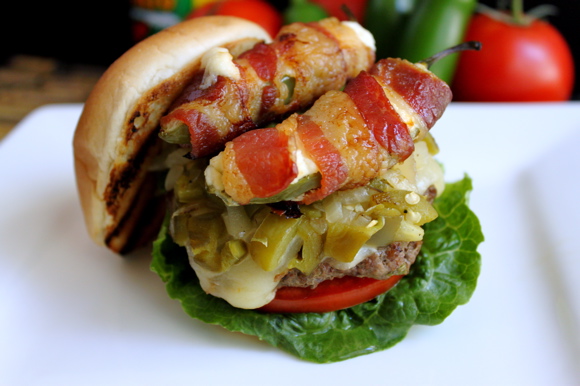 Cream cheese-filled, bacon-wrapped jalapeno peppers are MY secret weapon. No Dad I know can resist them.
And sure, Dad might be pretty happy with a few poppers and a cold one. But Dad will be blown away when you top a Juicy Lucy with Jalapeno Poppers and make Jalapeno POP Burgers! For added instruction and entertainment, watch the video.

A brisk walk, bike ride or relaxing hike is always fun on Father's Day. Another free (and super quick) activity is Bacon Ipsum.
Total bonus if your Dad happens to be a Graphic Artist. A word of caution: Don't use Bacon Ipsum for wording on your Father's Day card.

Nothing let's Dad know he's The King like surprising him with the king of sandwiches, The Elvis!
Make it Viva Las Vegas Style with peanut butter, bacon and honey, pan-fried in butter. For added instruction and entertainment, watch the video.

Dads need vegetables too. Try Brussels Sprouts, Mushrooms, Bacon & Garlic with a big, juicy BACON Wrapped Filet.

Even the most macho of Dads can appreciate this delicate bouquet of roses. And this tutorial on How to Make a Bacon Bouquet is the most amazing thing I have ever seen in bacon. (Photo Credit: Our Best Bites)

You really want to impress the old man? Think about what he's always said, "Take your time and make something you can be proud of. Don't make this a kindergarten project."
Seared Halibut with Grilled Bacon Steaks, Fava Beans and Melted Leeks is anything but a kindergarten project. It's CIA.

If all this sounds like too much work and The Elvis didn't do the trick making Dad feel like a King, take him to Burger King. They have a new Bacon Sundae. (Photo Credit: Burger King, Noel Barnhurst)
Happy Father's Day!