Y
Click for printer-friendly version!
The peanut butter sandwich fit for a king.
According to Elvis' favorite hangout, The Arcade Restaurant in Memphis, The Elvis is creamy peanut butter and sliced bananas on white bread, pan fried in butter.
The Elvis Special is the sandwich served with a side of french fries. However, there are several accounts of Elvis' mother, Gladys Presley, making the King, Fried Peanut Butter and Banana sandwiches with the addition of crisp bacon and honey. For my first Elvis, I decided to stick with Mama Gladys and add the bacon and honey.
For added instruction and entertainment, watch The Elvis video.
Ingredients for The Elvis:
2 pieces soft white bread
2-4 tbsp creamy peanut butter
1 medium banana, sliced
1 tbsp honey
4 pieces crisp bacon
Directions for The Elvis Sandwich:
1) Over medium-low heat, melt butter in a skillet.
2) Spread peanut butter on a piece of bread and lay, peanut butter side up in the buttered skillet.
3) Add a layer of sliced bananas on top of peanut butter.
4) Add a drizzle of honey on top of the layer of bananas.
5) Layer slices of cooked, crisp bacon over honey.
6) Top the whole thing with another peanut buttered piece of bread.
7) When lower bread is golden and toasted, flip the whole sandwich over and cook until warmed through.
8) Cut into triangles.
9) Share and enjoy.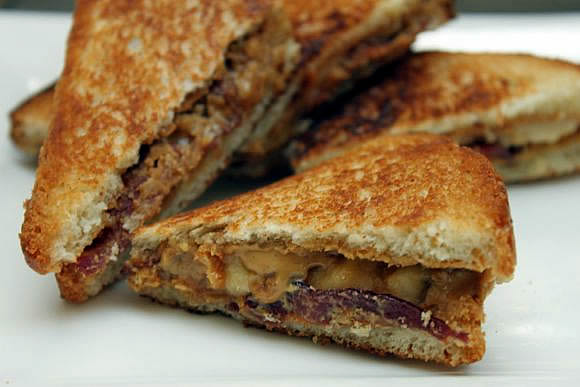 For added instruction and entertainment, watch The Elvis video.