Y
Click for printer-friendly version!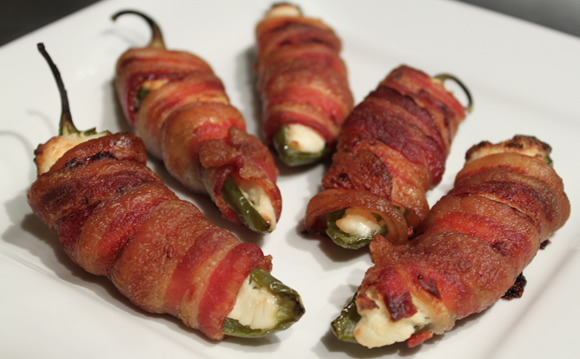 You too can witness a food miracle in the convenience of your own kitchen! The mind-blowing miracle of a cheese-stuffed, bacon-wrapped Jalapeno Popper!
Ingredients for Jalapeno Popper:
Fresh whole Jalapeno peppers
Cream cheese (light or regular)
Bacon (turkey or regular)
NOTES: Each whole jalapeno creates two poppers. The "brick" style cream cheese works best. Cut off a slice of cheese and then cut the slice in half. Use one-half slice of cheese per jalapeno. One slice of bacon (cut in two pieces) is used for two poppers, so you will need the same number of bacon slices as whole jalapenos.
DIRECTIONS:


Preheat your oven to 450(F). Watch your fingers!

Seriously.

Halve jalapenos.

Remove seeds.

Remove all seeds for mild; leave some seeds for more heat. (The pepper on the left will be more spicy than the pepper on the right.)

Cut slices of cream cheese from brick and then cut the slices in half length-wise.

Fill jalapeno halves with cream cheese.

Cut bacon in half, length-wise.

Wrap cheese-filled jalapeno halves with bacon.

Place on a baking sheet deep enough to catch grease. Non-stick foil can be a lifesaver for clean-up.
Bake in 450(F) oven for about 20 minutes or until the bacon is crispy and well done.
Remove poppers from baking sheet and allow to drain on paper towels.
Check for image of The Hoff ;)
CAUTION: Poppers will be hot! They just came from a 450 degree oven! Don't go shoving them into your mouth right away or you will never forgive yourself.

Search terms: betty #27, jalapeno poppers, hoffepeno, hoffapeno, jalapeno poppers recipe, jalapeno popper recipe, easy jalapeno popper recipe, cream cheese, bacon, jalepeno, jalapeno recipe, appetizer recipe, david hasselhoff, images in food, food miracle, baked jalapeno popper recipe
Link to the Hoffepeño! video.
Link to the accompanying Hoffepeño! blog post.