Y
Click here for printer-friendly recipe!
What's your perfect burger?


HAPPY FATHER'S DAY! Chances are, Dad is going to want some meat this Father's Day. All the Fathers in my life will, anyway. And if your Dad has a taste for heat, this burger will set Father's Day ablaze! And don't forget: Burgers are burgers; they aren't science. Change the seasonings and meat type to suite your taste. I'd love to hear how you make this your own… or better yet, how you make it perfect for your Dad! Watch the Jalapeno POP Burger video to see how it's done!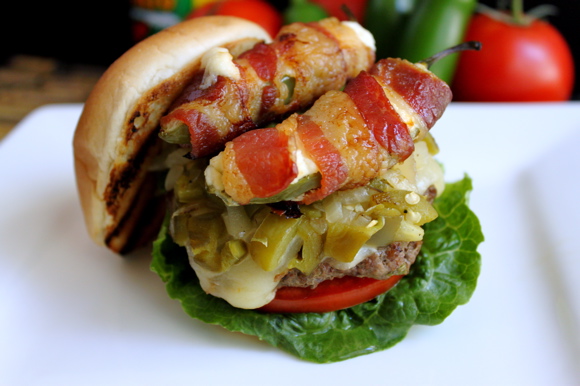 Ingredients for Jalapeno POP Burgers:
1 pound lean ground beef
1/3 cup chopped jalapeno (majority of seeds and membrane removed)
1/3 cup chopped onion
1/2 tsp cumin
1/2 tsp garlic powder
salt, pepper
(try a splash of soy sauce or balsamic vinegar for more flavor)
I typically get five to six quarter pound burgers out of one pound of meat. Like that math? The chopped pepper and onion bulk up the patties. A lot more flavor, a little less meat!
Ingredients for Jalapeno Relish
2 fire roasted jalapenos
4 fire roasted "wheels" sweet onion
juice of 1-2 limes
salt
(enough relish for six burgers)
Jalapeno Poppers
Get the recipe here.
Other Ingredients
buns
cheese (jalapeno jack)
lettuce
tomato
NOTE: This recipe makes five to six delicious Jalapeno POP Burgers and one cup jalapeno relish.

We don't call this the Jalapeno POP Burger for nothing! Start by making the jalapeno poppers. The complete (and printable) recipe can be found here.

Next, make the jalapeno relish. Grill jalapeno and onion. Chop and combine with fresh lime juice and a pinch of salt. Set aside.

To season the meat, add chopped jalapeno, chopped onion, cumin, garlic powder and black pepper.

Shape into patties and season with sea salt right before placing onto a super hot grill or griddle. The salt ensures a nice crust on the outside of the patty.

TIP: Try making a juicy lucy by putting the cheese inside the patty. Watch the Jalapeno POP Burger Video to see me make one!

Flip and top with cheese. To help melt the cheese you can cover for the last minute. Allow the burgers to rest while you grill or toast the buns.

Then, add lettuce, tomato, the juicy and delicious burger patty, some of that ultra-spicy fire roasted jalapeno relish and the top bun. Garnish with jalapeno poppers and enjoy.

WATCH THE VIDEO TO SEE THE JUICY LUCY!