Y
WATCH THE VIDEO!
As you may notice, I'm a little obsessed with grilling potatoes lately.
Truth be told, I'm a little obsessed with grilling everything this summer and keeping the heat outside where it belongs!
Buffalo Ranch Packet Potatoes are a spicy, creamy kick-in-the-pants of potato you've got to try next time you fire up the grill.

Don't miss a video… SUBSCRIBE TO MY CHANNEL ON YOUTUBE!

Get the Buffalo Ranch Packet Potatoes Recipe.

Get the Grilled Potatoes Recipe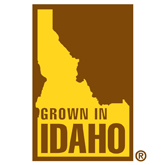 The Average Betty Test Kitchen developed this recipe and produced this video on behalf of the Idaho Potato Commission.
For more great recipes using Idaho Potatoes, check out the Idaho Potato Commission Website.