Y
Click for printer-friendly version!


One summer, before a camping trip to Yosemite, I was at the market picking up a few last minute items no self respecting camper would venture into the wilderness without. I'm not talking bug repellent, drinking water or a flashlight. I'm talking S'more Supplies: graham crackers, marshmallows, and a chocolate bar.
Chocolate Bar? As I reached towards the the family sized block of creamy milk chocolate, I stopped. Why settle for chocolate when you can have chocolate AND peanut butter? From that moment on, a S'more just isn't "some more" unless it's made with a peanut butter cup. This may merit an addendum to the Girl Scout Handbook.

Ingredients for Peanut Butter S'mores:
4 graham crackers, broken in half
4 Peanut Butter Cups
8 marshmallows
Notes:
Makes 4 S'mores. If toasting marshmallows on an open flame be very careful. If a flame is not available, use the microwave. It only takes a few seconds for S'more nirvana at home.
Directions:


If toasting marshmallows on a stick over an open flame, simply scrape the marshmallow off onto the top and bottom crackers, place the peanut butter cup in the center, press together and enjoy.
If microwaving, tear the marshmallows in half. Stack two marshmallow halves, the peanut butter cup and two more marshmallow halves on the bottom cracker (shown above). Place on a microwave safe plate and microwave on HIGH POWER FOR NO MORE THAN 10 SECONDS. Consider starting with 5 seconds; all microwaves vary. My microwave makes a perfect S'more at 7 seconds. Remove from microwave and top with a graham cracker, press together and enjoy.

These Peanut Butter S'mores should at least get me an honorary Patrol Leader cord, right? Share and enjoy.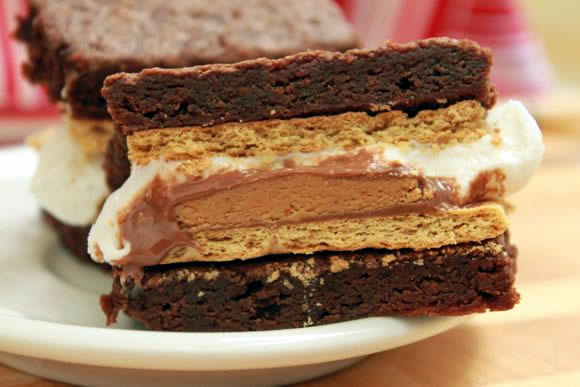 You can stop at S'more or go for S'morkie. Get the recipe here.