Y
WATCH THE VIDEO!
Spudnuts are donuts made with Idaho Mashed Potatoes. Sounds crazy, right? Well they are crazy delicious! And I'm amping up the Idaho in my Spudnuts by filling them with Idaho's State Fruit, Huckleberry!

Ingredients for Idaho Potato Spudnuts:
1 cup mashed Idaho Potatoes (not instant)
1 cup milk or buttermilk
2 large eggs, beaten
5 teaspoons baking powder
1 teaspoon coarse salt
3 TBSP melted butter
1 TBSP vanilla
1/2 cup white sugar
1/2 cup light brown sugar
3 – 4 cups all-purpose flour
NOTES:
Makes approximately 48 round donuts suitable for filling. Recipe inspired by Chef Bryan Woolley, Klondike Brands Spudnut Recipe. For added instruction and entertainment, watch the Idaho Potato Spudnuts Video.
Directions for Idaho Potato Spudnuts:
Make the Mashed Potatoes:
1) Peel and chop a 10-16 ounce Idaho Russet into equal sized pieces.
2) In a medium saucepan, cover the potato pieces with water.
3) Bring to a gentle boil. Reduce the heat, cover and cook the potato pieces until they are fork tender.
4) Drain the water from the potatoes.
5) Mash until smooth.
6) Portion out 1 cup of mashed potatoes.
Make the Spudnut Dough:
1) In a large mixing bowl combine mashed potatoes, milk and beaten eggs.
2) Add baking powder and stir till foamy.
3) Add white sugar and brown sugar and combine throughly.
4) Stir in salt, melted butter and vanilla.
5) Begin folding in flour 1 cup at a time until a sticky yet manageable dough forms.
6) Turn dough out onto a floured board and knead until you can pat out and cut shapes.
Fry the Spudnuts:
1) Heat oil to 325(F)
2) Drop small portions of dough into oil and fry until golden brown.
3) Transfer to paper towels and allow to cool to the touch.
Fill the Spudnuts:
1) With a pastry bag and tip, or similar device, inject jam, pastry cream or curd into each Spudnut.
2) Sprinkle with powdered sugar.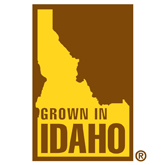 For more great recipes using Idaho Potatoes, check out the Idaho Potato Commission Website.

Don't miss a video… SUBSCRIBE TO MY CHANNEL ON YOUTUBE!