Y
I know, when you think Alton Brown, Julia Child and Heidi Klum, you naturally think Average Betty, right?
OK. Well, maybe not.
But unbelievably and quite honorably, Average Betty was inducted into the 2014 Taste Awards Hall of Fame, along with the aforementioned A-listers.
Average Betty is also honored to receive accolades for Best Branded Program for our work with the Idaho Potato Commission for a second year in a row.
And… if all that isn't enough to make us feel like egotistical maniacs, Average Betty is up for two Viewer's Choice Awards: Best Food Program on the Web and Best Home Chef in a Series. If you have a moment to spare… we'd love your vote before December 19th.
Thank you so much for all of your love and support. 2013 has been a life-changing year for Average Betty, both professionally and personally. It would be a thrill to kick off 2014 as your Viewer's Choice!! Thanks for watching and subscribing!!
Please CLICK HERE to vote.
Check out the latest spudtacular video featuring Famous Idaho Potatoes…


Idaho Potato Spudnuts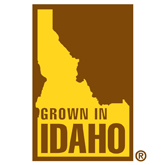 For more great recipes using Idaho Potatoes, check out the Idaho Potato Commission Website.

Don't miss a video… SUBSCRIBE TO MY CHANNEL ON YOUTUBE!