Y
WATCH THE VIDEO!
We already know that when you cross Thanksgiving and Hanukkah you get Thanksgivukkah. But what do you get when you cross a Latke with a Sufganiyah?
A SPUDNUT!
The perfect hybrid treat to celebrate the perfect hybrid holiday…

Don't miss a video… SUBSCRIBE TO MY CHANNEL ON YOUTUBE!

Get the Idaho Potato Spudnuts Recipe as seen in the video.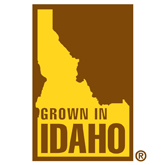 For more great recipes using Idaho Potatoes, check out the Idaho Potato Commission Website.