Y
WATCH THE VIDEO!
Brussels Sprouts can be controversial. And I know, you've been hurt by Brussels Sprouts before. But it wasn't their fault. They were over-cooked. These Grilled Brussels Sprouts want to make it up to you.
Grilled Brussels Sprouts with Balsamic Dressing and Parmesan Cheese not only make a show-stealing side dish, they are perfect, bite-sized, cancer-fighting appetizers. Give them another chance!
Get more HEALTHY RECIPES this month with the Shine Supper Club!
Ingredients for Grilled Brussels Sprouts:
12 Brussels Sprouts
1 TBSP olive oil
salt & pepper to taste
Balsamic Dressing for drizzling
grated Parmesan Cheese for sprinkling
NOTES:
Serves four as a side dish or eight as an appetizer. Cooking time is based on desired tenderness. I prefer the exterior mostly soft with a slightly crunchy interior.
DIRECTIONS: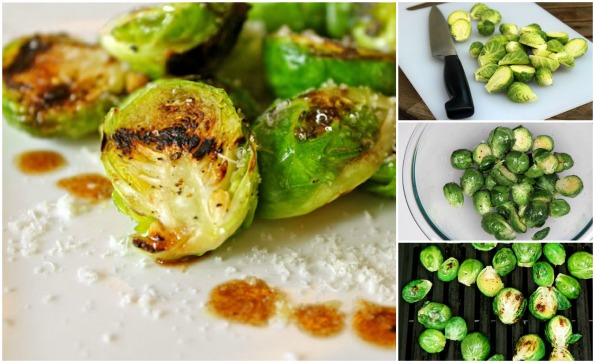 1) Preheat grill to medium-high.
2) Wash the sprouts and discard any damaged looking leaves.
3) Cut off the tip of the stem and slice each sprout in half.
4) Toss with olive oil, salt and pepper.
5) Place onto preheated grill (high heat) and cook until seared on both sides, about 8-10 minutes total.
6) Remove from the grill, drizzle with Balsamic Dressing and sprinkle with Parmesan Cheese.

Have YOU subscribed to my channel on YouTube?