Y

Chef Adam Cho of Rick's Cafe teaches Spice Skool once a month at the breathtaking Loews Lake Las Vegas Resort. Spice Skool students gain a fundamental knowledge of spices, their flavors and use. The curriculum includes yummy dishes, like this Honeydew and Fennel Soup above. Activities include salt tasting, cooking and marinating with spices, and pairing spices with wine. Spice Skool's five course tasting with wine included is only $20. Twenty dollars, people!
In addition to the wine pairing and tasting, each student gets to make their own spice blend to take, as well as a spice guide and recipe booklet from Chef Cho (left).
Each Spice Skool class is unique; Chef Cho keeps it fresh by featuring different spices and tastings for each session. And the only thing better than hands-on learning is tastebuds-on learning!
You can still get in on the last two classes of 2010! Spice Skool is in session Saturday, November 20, and Saturday, December 4. Contact Loews Lake Las Vegas for reservations and 2011 schedule.
MEET THE CHEF

In the short amount of time I spent with Chef Cho, I didn't just learn to think about salts and spices in a new way, I learned to taste them in a new way, too. Chef Cho took me on a flavor journey through all five courses and explained each spice, herb and preparation along the way.
DESSERT IN THE DESERT


The party in your mouth pictured above is Chinese Five Spice French Toast, topped with Ginger Ice Cream and Spicy White and Dark Chocolate Covered Bacon. This masterpiece of sweet, savory, salty and spicy was the dessert course of my Spice Skool tasting. Video coming soon. Best of all, Chef Cho shares this delectable Chinese Five Spice French Toast recipe! Get the recipe here.
THIS IS THE CLASSROOM?


Spice Skool is in session at Rick's Cafe (above) which serves American cuisine with Mediterranean influence. The main dining room is open, with warmly colored niches containing ornate vessels, and airy curtains that whisk you past a wall of windows. I don't know about you, but I've never been in a classroom like this before! (photo credit: Loews Lake Las Vegas)
VIVA LOEWS LAKE LAS VEGAS!


A getaway to Loews Lake Las Vegas has little to do with gambling; it has everything to do with beautiful surroundings, fun on the lake, sun at the pool, and good times to share with family and friends.

Only 30 minutes from The Strip, Loews Lake Las Vegas is as carefree as a getaway to Las Vegas, but it feels like you've arrived in Hawaii.

The meticulously decorated Moroccan themed hotel somehow feels like a friend's massive, welcoming home. With a courtyard like this, you may never make it back to your room.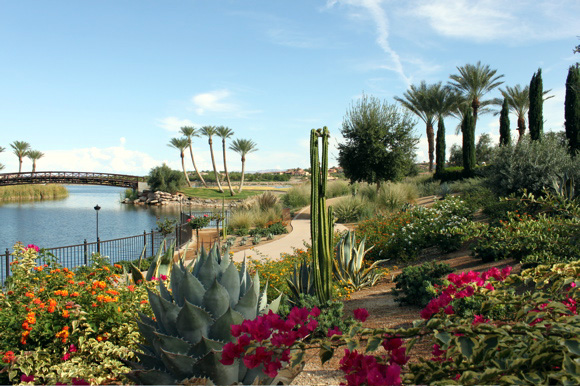 The sustainably landscaped grounds provide for relaxation and discovery. With cactus and succulents from various desert regions, there is plenty to explore and enjoy. I met the Head Landscaper, Ed Bakker, during a walk through the botanical gardens. Happy and knowledgeable, it's easy to see why the Loews grounds are impeccably kept.

Colorful tile work, plenty of plush seating, and the sounds of flowing water invite guests to relax in the chic indoor-outdoor space.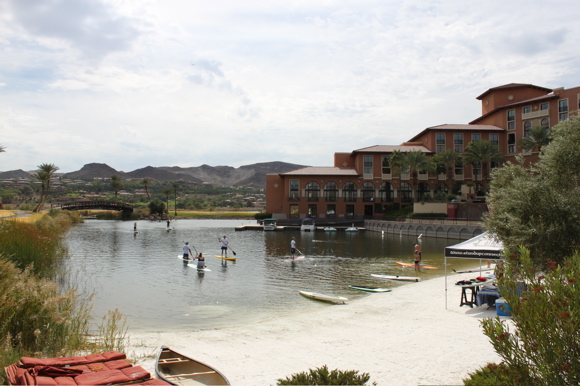 Desert energy fills the air and the sandy beach entry to the massive Lake Las Vegas fills the view. There's water sports galore, a giant pool with water slide and a full court basketball court. Of course there's golf and spa, too.

I can imagine being a part of an action packed family vacation, wedding, couples getaway or girls' weekend at Loews Lake Las Vegas. And what's even better? You can do it all with Fido. Loews is dog friendly. I don't know that I'll ever be able to visit Las Vegas again without experiencing a stay at Loews Lake Las Vegas. I seriously can't wait to get back!
Note: Average Betty's coverage was made possible by R&R Partners, Loews Lake Las Vegas Resort and the Las Vegas Convention and Visitors Authority.