Y
Click for printer-friendly version!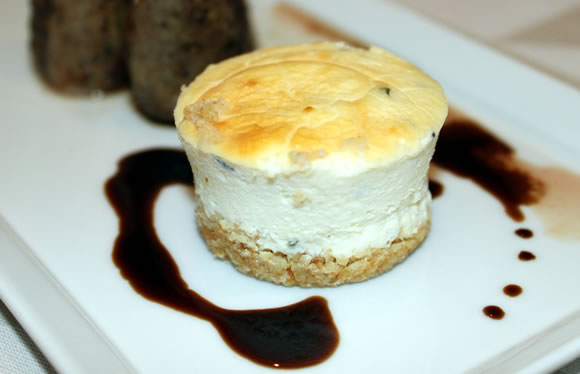 Chef Adam Cho of Rick's Cafe at Loews Lake Las Vegas shares this recipe for his Goat Cheese Cheesecake which I experienced at Spice SKool. This savory cheesecake was served as part of our fourth course with a Moroccan spiced lamb tenderloin and asparagus. For more information on Spice SKool, read my story and watch the video Get Cho Spice On! to get a preview of Spice SKool and the updated schedule for 2011.
Ingredients for Goat Cheese Cheesecake:
2 (8-ounce) packages cream cheese, cut into pieces
3 (4-ounce) packages fresh goat cheese, crumbled
2 teaspoons finely grated lemon zest
2 tablespoons fresh lemon juice
1 tablespoon of sugar
1 tablespoon of rosemary
1 tablespoon of chives
4 eggs
1 package of table crackers crushed
1 stick of butter (1/2 cup)
Directions:
1. In a mixing bowl combine cream cheese, goat cheese, lemon zest, herbs, and sugar.
2. Once combined slowly add one egg at a time until incorporated. Let sit while you set up your pans for cheese cakes.
3. Take crushed crackers and add melted butter until crackers feel like wet sand.
4. Pat mixture in the bottom of 9" spring form pan or 2 smaller pans. Pack crackers down and make sure the whole pan is covered.
5. Slowly pour mixture into pans and tap gently to allow all air bubbles to escape.
6. Cook in a 320 oven for about 45-50 minutes if you are using a 9" pan. If you are using smaller pans your time will be less.
7. Remove and let cool. Sever cold, room temperature or warm with some lamb or as is with some crackers.