Y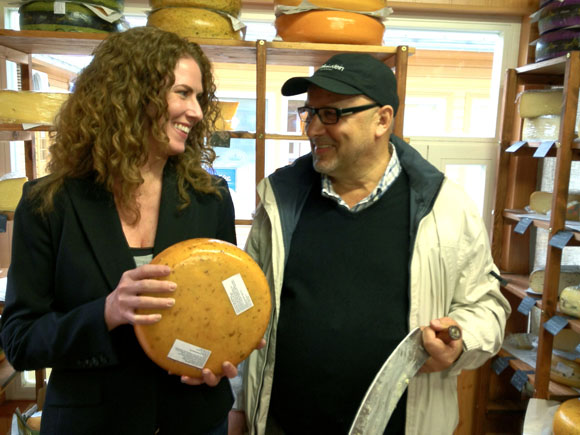 Did you see the movie, My Week With Marilyn? I saw it on the plane home from Tallinn, Estonia and it got me thinking about the once-in-a-lifetime culinary experience I just had with Chef Dimitri Demjanov. Instead of a whole week however, I got a day. An afternoon, really.
Now, don't get me wrong, my afternoon with Chef Dimitri didn't involve skinny dipping or movie making. More like tomatoes and cheese — but it had all the makings of a fleeting adventure I want to remember forever.
Chef Dimitri Demjanov of Gloria Restaurant is a legend in Estonia and the authority on traditional Estonian cuisine. If there are two things I learned while in Estonia, it's that tradition and good food are paramount to Estonians. I also learned Estonians are really good karaoke singers, but that's another story.

Gloria is so steeped in history, it's built from it. The expansive restaurant and wine cellar are located in a section of the city's famous wall, constructed in medieval times and still mostly intact. Also tucked inside Gloria is Culinary Institute of Estonia. And Demjanov oversees it all.
We get acquainted in Dimitri's office. Sitting at a large table, he motions to the giant, white and gold balloon numbers, a two and a five, suspended from the ceiling in the back corner of the room. He lights a candelabra in the center of the table and explains he hosted a birthday party the evening prior.
Brightly colored mosaic tiles accent the kitchen along the back wall. Rustic utensils mix with stainless steel on the counter. A flat panel monitor hangs on the wall overhead. We sip sparkling water and Dimitri explains that he'd like to take us to the farmer's market. Suurepärane!

When we arrive at the farmer's market, it's raining lightly but the vendors are busy. Following Dimitri, we stop to look over the potatoes. So many intriguing varieties. Dimitri explains how important the potato is to the Estonian diet, that the potato is the, "apple of the earth," and goes on to ask, "Where do you get potatoes from in America, New Jersey?"
Of course I tell him, "The best potatoes are from Idaho…"

As we explore all that the market has to offer, I'm with royalty. A rock star. It's like going to a farmer's market with the Estonian Thomas Keller. When Chef Dimitri drops by, vendors slice into cheese and meat with abandon, farmers generously offer samples of fruits and vegetables.

Chef Dimitri elaborates on his philosophy of New Nordic Cuisine. Echoing the manifesto of his book, "Eat First," he expresses what he wants to impart on the next generation of Estonian chefs,
"Respect for products. No compromise on products, they've got to be the best products. Freshness. This is the main point. The second point, go back to the roots. Know your concept of the restaurant, how it is developing in the history; the time-table. And know French basics, because the French kitchen is all kitchens mother. When these points are put together, when you know your own history and roots, you know French basics and you have respect for the products, you take your time with the products, you are not quick… And this is a never ending story. Everyday you learn something new. Because the world is always changing."

We finish gathering produce and some of the most amazing cheese I've ever tasted. Chef Dimitri explains to look for products labeled EESTI, because it means they are Estonian grown. "Estonians trust what is grown in Estonia."

Back at Gloria, it's down to the wine cellar. Chef Dimitri pours an aperitif and signs his book for me. A brief tour of the wine shop and Dimitri leads us into the underbelly of Gloria.

Arched, stone hallways circle around, revealing ornately decorated dining spaces. Some nooks are large enough for two, others have room for a party. Candelabras burn in a place that could be cold and cavernous, instead it's warm and jovial. Full of memories, it's as though you can feel them walking around you.
Back in the main dining area, surrounded by plush everything, up the grand staircase, around the ballroom, past the bar; the space is enormous yet no detail is overlooked. We are seated in one of the six private dining cabinets, instantly transported to a different era.
Check out a Virtual Tour of Gloria Restaurant.

A glass of Capitol Nicalo Appassimento 2010 Tedeschi Valpolicella and then, The Salad.
The EESTI Salad Chef Dimitri prepared using ingredients we had just selected at the farmer's market together. Fresh, seasonal Estonian products joined carefully with French sensibility. Kuulsusrikas!

An exquisite presentation of Borscht (or borš in Estonian) topped with a croissant-like sesame pastry; when removed, reveals the vibrant, piping hot soup below.

Beetroot gives Borscht the brilliant color, carrots cabbage and sour cream impart the classic Russian flavors and textures.

EESTI Strawberries also fresh from the farmer's market.

And just in case there was any room left, Chef Dimitri spoils us with Classic Creme Brulee.

Tänan Väga Dimitri Demjanov and everyone at Gloria Restaurant for the memorable, adventurous day, connection to EESTI and the truly mind-expanding meal.

More to come on my Estonian Culinary Adventure… stay tuned! Special thanks to Michael Chan; Estonian Consul, Chef John Mitzewich; Foodwishes.com and The Taste Awards for making this Culinary Tour of Tallinn, Estonia possible.

Introduction to my trip to Tallinn, Estonia: Estonian Epicures and How To Choose Wine Infographic.