Y
Is it strange that I like going to supermarkets when I travel? Sure, I usually pick up a bottle of water and snack for the room. But even if I'm not buying anything, I like to look.
I'm a sucker for seeing household products that are called one thing on the East Coast and another on the West. I like to see how much the eggs cost. I hope for sightings of unusual produce and packaged food I've never seen before, like jars of duck fat at Chelsea Market.
As I poke around the grocery store in Tallinn, Estonia, I see the word LEIB on the wall. This is my thought process:
We are going to dinner at a restaurant called Leib tonight.
This is the bread section.
Leib is the Estonian word for Bread.
We are going to dinner at a restaurant called Bread.
Totally cool.

Leib Resto ja Aed means Bread – Restaurant and Garden in Estonian. (Thanks, Pille!)
Tucked into a mostly residential neighborhood in Old Town, is Leib's unassuming gate (above).
Up a few steps, greeted by an old stone tower, lush greenery cradles you in softness among the stone.
It's so cozy, it's almost like arriving at someone's home.
Weather permitting, there is live music, outdoor cooking and dining in the courtyard.

Advance reservations can be made for picnics complete with a basket, blanket and spot on the lawn.

Balcony seats always work for me.

We start with something rich and red. And something cheesy.

Cheese Balls with homemade herb-garlic mayonnaise.
Funny story, I saw Cheese Balls on several menus in Tallinn. And let's face it, my juvenile mind can't see those two words together and not chuckle inside. I finally ask our server at Leib, "Are Cheese Balls a traditional Estonian dish?
"No. We just like them," he replies.
I can see why!

Chanterelle Soup with fresh herbs.

Pan fried local perch with green pea cream and potato mash.

Estonian Beef Filet with Carrots, Chanterelles and spicy lentil sauce.
Leib is inventive, fresh, uncluttered cuisine made with local ingredients and plenty of care. The ambiance is fairytale-like and the staff personable, informed and attentive.
By the time we finish dinner, we are in candlelight. (Aw shucks, right?)
Unfortunately too dark to capture our drool-worthy desserts, a selection of handmade ice creams – rhubarb, black bread and cottage cheese and Creme Brulee with Black Bread.
Leib's promise of "Soulful, casual dining," delivers.
Other articles on Estonian travel:

Introduction to my trip to Tallinn, Estonia: Estonian Epicures and How To Choose Wine Infographic.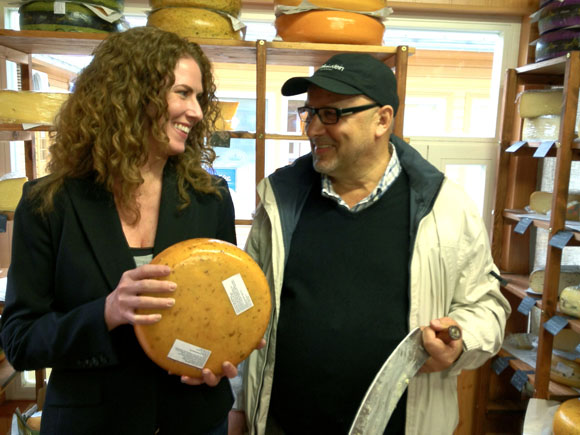 My Trip to an Estonian Farmer's Market: My Day With Chef Dimitri Demjanov.

Learn how to make Karask Traditional Estonian Barley Bread Recipe in this video.