Y
Average Betty was thrilled to take home the honor of Best Branded Video Campaign for our work with the Idaho Potato Commission at the 4th Annual Taste Awards on Thursday, January 17, 2013 at the historic Vibiana in Downtown Los Angeles.

Chef Jet Tila and The Charleston Restaurant & Gastrolounge prepared the mouth-watering and visually stunning Manchego Idaho Potato Croquettes with Chorizo, Caramelized Onions and Chive Crema (above).
AVERAGE BETTY + IDAHO POTATOES = WINNING!

If it doesn't have a permalink it didn't happen. Am I right?
Following is the acceptance speech I gave at the awards ceremony. These words are every bit as heart-felt as the night I spoke them. And this also gives me the opportunity to thank you, blog visitor…
"Thank you so much.
I'd like to thank the Taste Awards for this great honor and say how incredible it is to be in this category with all the great nominees.
I'd like to thank Don Odiorne, the Idaho Potato Commission and all of the farmers who work so hard to put potatoes on all of our tables. It's hard to believe that a 75 year old commission would be so forward thinking to give food bloggers a voice and invest so strongly in New Media. I can only hope that the IPC is setting a trend that other food brands and commissions will follow.
When I was a little girl, living in Florida, shopping at the grocery store with my Mom, she would always say to me, "Get your potatoes from Idaho and your carrots from California." So, for me, working with the Idaho Potato Commission seems like something I was practically raised to do. And Carrots – call me.
I'd like to thank the Idaho Potato crew at Evans, Hardy & Young, my friends and partners at YouTube and all the campers at Camp Blogaway.
An enormous shout out and thanks to all of my subscribers on YouTube and anyone who has ever watched a video or tried a recipe.
Thank you Nicole from Presley's Pantry, Valentina from Cooking on the Weekends and Chef John from Foodwishes. Our friendships forged in food mean so very much to me.
A huge thanks to Chef Jet Tila and The Charleston Restaurant for providing the mouthwatering Idaho Potato Croquettes being served up at the after party tonight.
And most of all, I'd like to thank my smokin' hot husband Lee O'Donnell – if it wasn't for you, I'd never know how awesome it could be, to be averagebetty.
Thank you!"

The best thing about the Taste Awards is the chance to meet so many talented people I'm privileged to call friends. Here with new friend and fellow YouTube Next Chef, Laura Vitale and old friend, Chef John of Foodwishes, showing off our hardware.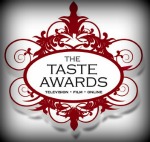 The TASTE AWARDS, also known as the TASTY Awards, are the premier broadcast awards show celebrating the year's best achievements in Food, Fashion, and Lifestyle programs on Television, in Film, Online, and on Radio. Or, as Bobby Bognar notes, "A celebration of people who love to eat and people who don't eat anything at all."