Y
Where is your favorite place to eat in Vegas? Leave a comment.

Executive Chef Jet Tila of Wazuzu at Encore, Las Vegas graciously shares this recipe for Drunken Noodles (Pad Kee Mow) that can easily be prepared at home… without a 250,000 BTU Pow Wok!
Watch Viva Wazuzu to see Chef Jet make his famous Drunken Noodles!
Ingredients for Drunken Noodles (Pad Kee Mow):
3 tbsp black soy sauce
1 tbsp sweet soy sauce
1 tbsp oyster sauce
2 tbsp fish sauce
3 tbsp canola or peanut oil
2-3 garlic cloves, minced
2 eggs
1/3 pounds beef, pork or chicken, thin sliced against the grain
1/2 medium white onion, sliced
4 cups fresh rice noodles, separated
1 cup Thai basil leaves, loosely packed
1/2 medium tomato, sliced
1/2 tsp white pepper
Directions: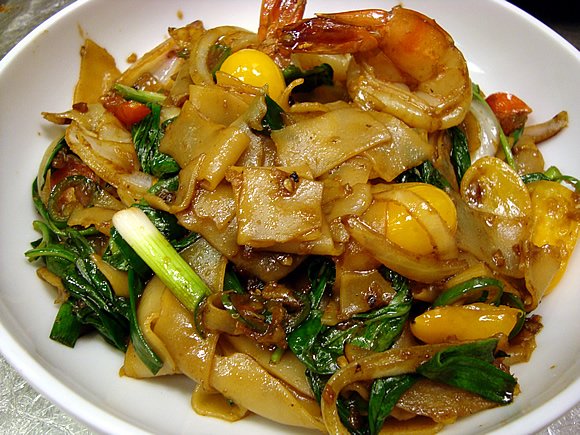 Combine black soy, sweet soy, oyster sauce, and fish sauce in a small bowl and set aside.
Heat oil to medium high in a medium sauté pan and sauté garlic until light brown.
Add eggs and lightly scramble until set.
Add meat and onions folding constantly until the meat is half cooked, about 1 to 2 minutes.
Add fresh rice noodles, sauce, tomatoes and basil; toss to combine for about 3 to 5 minutes. Make sure the noodles are cooked until the edges are slightly crisp.
Sprinkle white pepper to combine well and adjust seasonings as necessary.
FROM THE WAZUZU KITCHEN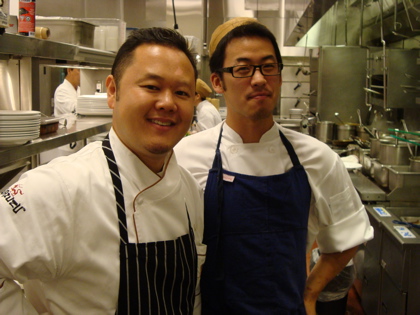 Chef Jet and Chef de Partie, Alex Jun.

Hot and fresh dishes on the line.

Look at all those spices…
WATCH THE VIDEO TO SEE CHEF JET AND HIS DRUNKEN NOODLES IN ACTION!