Y
I hit the jackpot when I scored an interview with Chef Jet Tila at Wazuzu, his delicious Asian-fusion bistro at Encore in Las Vegas…
MAKE CHEF JET'S NOODLES AT HOME!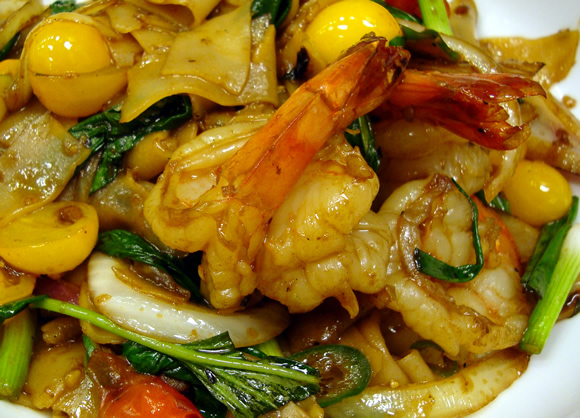 The Drunken Noodles are my favorite! Fresh rice noodles with Thai basil, sweet soy sauce, chilies and onions… and a little magic according to Chef Jet! You might not have a 250,000 BTU Pow Wok at your house, but that doesn't mean you can't try Chef Jet's Drunken Noodles at home. Link to the Drunken Noodle recipe.
CHECK OUT THESE DELICIOUS DISHES!


Wazuzu Pineapple Fried Rice is Thai Jasmine rice, roast duck, Chinese sausage, shrimp and pineapple… served in this half pineapple! Too fun!

The Crunch Roll at Wazuzu is different from any other! Panko crusted shrimp, masago aioli, cucumber and avocado topped with Jasmine rice crackers. Super fresh!
THE WAZUZU DRAGON


Wazuzu has food so delicious you'll want to sing, and seats so comfortable you'll want to take your pants off. The ambiance is so luxurious and the service so friendly you'll want to move in. Sorry, Swarovski crystals not for take-out.