Y
Perfect score! Los Angeles Times and Food & Wine put the EPIC in epicurean at The Taste. A four day extravaganza of food, wine, music and more celebrity chefs than you can shake a Lexus at. We picnic in The Hills. We talk street food. We tell secrets. And by we I mean me and chefs Giada De Laurentiis, Scott Conant, Jet Tila and Fabio Viviani. Betty Hallock and Rene Lynch of Los Angeles Times entertain my shenanigans and there's even a special appearance from Aarti Sequeira! See what I mean? Totally EPIC-curean. So, what are you waiting for? Watch The Taste Test!
A MOUTHFUL OF B-ROLL


Lamb Flatbread from Palate Food & Wine.

Arugula, Watermelon and Feta Salad from Lawry's Catering.

Polenta from Scarpetta. Photo courtesy Kitchen Runway.

Prime Rib Slider with Housemade Potato Chips from Lawry's Catering.

Corn Salad from Tender Greens.

Gnocchi from Firenze Osteria.

Lamb Ragu from Oliverio at Avalon Hotel.

Short Rib Farro Salad from Simon LA.

Chop Chop Salad from Palomino.

Three Kinds of Pork Slider from The Curious Palate.

Beef Wrap with Quinoa Risotto from Picca / Mochica.

Crying Tiger Pork and Mango Coco Salad from Jitlada.

Pork Bun from RockSugar Pan Asian Kitchen.

Crispy Skin-On Roasted Pork Belly Seasoned with Wild Fennel and Herb Frisee Salad from Sotto. Photo courtesy Kitchen Runway.

Margaritas from Hornitos.

Potato Habanero Nacho from MexiKosher.

Loteria Grill has a strong showing at Taco Tequila Tryst with a Red Snapper, Plantain Chip Taco.

Shrimp Ceviche Taco from Loteria Grill.

Black Mole Chicken Tamale from Guelaguetza.

Meatball from Osteria La Buca.

Root Vegetable Ravioli with Sage Butter Sauce from Erbe Matte.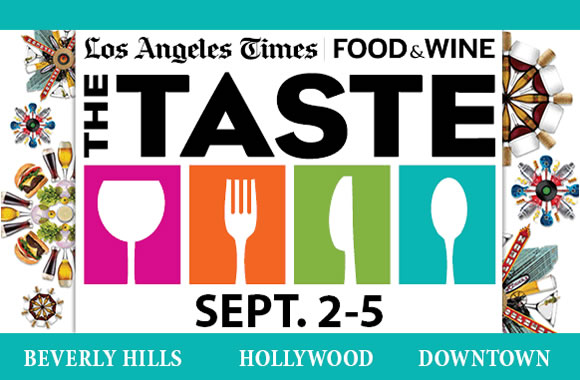 Big thanks The Los Angeles Times, Wagstaff Worldwide, Zeke Quezada and Quyen & Derrick from Kitchen Runway. Prelude: A Nibble of The Taste