Y

You might call it a labor of love. My last gasp of summer this Labor Day weekend wasn't about relaxing on a beach or sipping drinks poolside; rather, I had the pleasure of "working" the Los Angeles Times | Food & Wine The Taste, September 2-5, 2011, to cover culinary events in Beverly Hills, Hollywood and Downtown LA.
Being around food and sampling bites like the Glazed Pork Belly Bun from Rock Sugar (above) on a normal day is fun, so when you get four consecutive days surrounded by world class cuisine, wine, spirits, music and celebrity chefs, the experience can hardly be described as labor.

The Taste is one of the largest and most ambitious food and wine festivals Average Betty has covered, and such a spectacular event requires mind-blowing coverage. While we digest mounds of food porn and hours of video featuring interviews with chefs Scott Conant, Fabio Viviani, Jet Tila and culinary hero, Giada De Laurentiis, as well as Los Angeles Times Food editors, Betty Hallock and Rene Lynch, we have these nibbles to share…

I totally get the Jitlada hype. Crying Tiger Pork and Mango Coco Salad is not only the best thing I ate at Street Eats… it's the best Hot & Spicy thing Curtis Stone ever ate.

Mariachi El Bronx brings the party at The Art of Mixing.

Root Vegetable Ravioli with Sage Butter Sauce from Erbe Matte is the one bite wonder at Picnic in the Hills.

Keeping my Kogi "K" dream alive with Roy Choi and Team Kogi at Taco Tequila Tryst.

Gnocchi from Firenze Osteria. I'm not sure what I enjoy more: Watching Fabio make gnocchi, or eating it.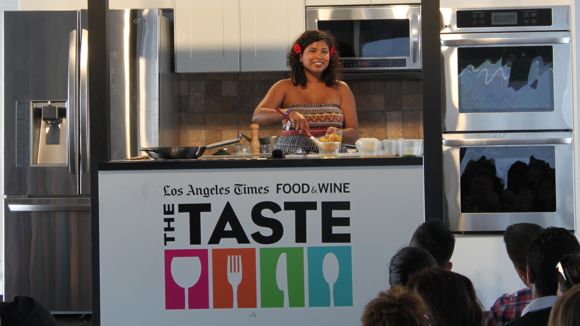 Classy, cheesy goodness. Aarti Sequeira transforms fresh made paneer into the Indian classic, Saag Paneer at Secrets from the Kitchen & Cellar.

Loteria Grill has a strong showing at Taco Tequila Tryst with a Red Snapper, Plantain Chip Taco.

Silliness with Russ Parsons and Kerry Simon of Simon LA (left) at Secrets from the Kitchen & Cellar. Later, Diego Garcia sexies up Taco Tequila Tryst (right).

The Cake Mamas make an appearance at almost every event with fun flavors like the Mojito Cupcakes (above) .
Hope these nibbles make you hungry because there is more to come…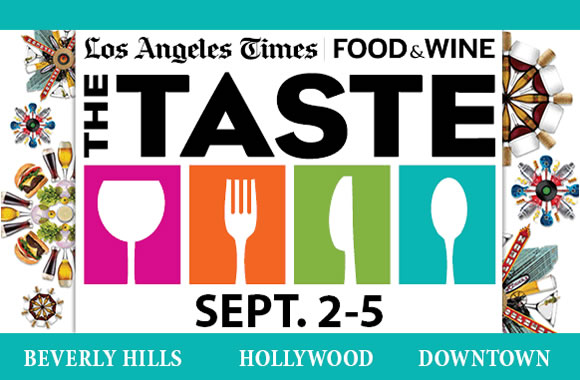 Big thanks The Los Angeles Times, Wagstaff Worldwide and Zeke Quezada.