Y
WATCH THE VIDEO!
September 13th is National Peanut Day. Not that I need a reason to celebrate peanuts; I eat peanut butter almost every day. Usually, smeared on wheat toast in the morning. And there's nothing like a handful of blistered peanuts around "quitting time." Snickers and Pay Day candy bars were always a Halloween sack score in my trick-or-treating days and Peanut Butter Cup Ice Cream is still a favorite.
And since sweet, rich desserts are usually associated with peanuts, I thought I'd share my favorite savory peanut recipe. In honor of National Peanut Day, here's a how-to of my favorite Peanut condiment, Peanut Sauce! Enjoy this Peanut Sauce with grilled chicken skewers, noodles, salads, or in place of the red sauce on pizza.
WATCH THE VIDEO!
MAKE PEANUT SAUCE!


Get the Peanut Sauce Recipe here.
MAKE CHICKEN SATAY!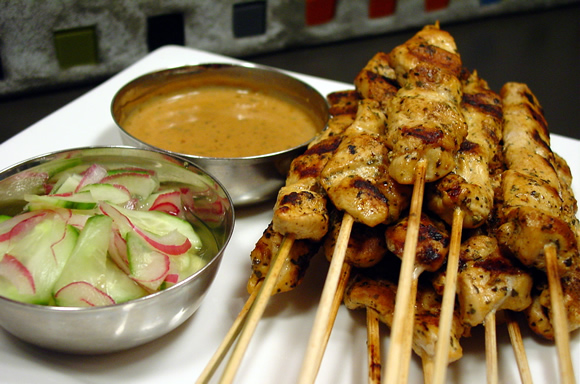 Get the Chicken Satay and Cucumber Salad Recipe here.
Photo credit Image #1 (background): Raggedyland