Y
Click for printer-friendly version!


Here's my favorite Peanut condiment, Peanut Sauce! Enjoy this Peanut Sauce with grilled chicken skewers, noodles, salads, or in place of the red sauce on pizza. Check out the How to Make Peanut Sauce Video and celebrate Peanuts!
Ingredients for Peanut Sauce:
6 tbsp coconut milk
2 tbsp brewed black tea (or chai tea)
3 tbsp natural peanut butter (creamy, salted)
1/2 tsp garlic powder
1/2 tsp dried basil (or 1 tsp finely chopped fresh basil or cilantro)
1 tsp honey
1 tsp sesame oil
1 tsp rice vinegar
pinch crushed red pepper flakes
1 tsp Sriracha
3 tsp soy sauce
2 tsp finely grated or minced fresh ginger
Notes: Makes 1 cup peanut sauce.
Directions:
1) Place all ingredients in jar.
2) Secure lid.
3) Shake.
MAKE CHICKEN SATAY!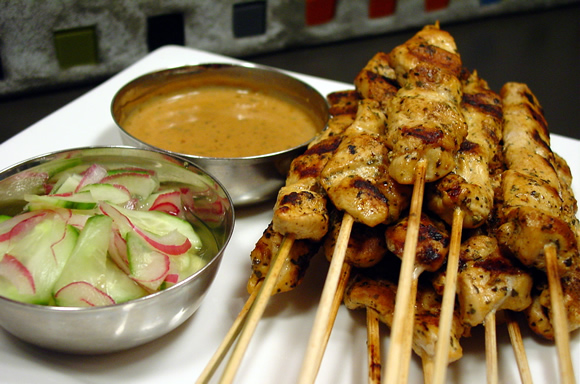 Get the Chicken Satay and Cucumber Salad Recipe here.