Y
The most romantic holiday of the year just got a whole lot hotter! Team Betty heads to Toluca Lake to celebrate Valentine's Day with Top Chef Fabio Viviani at his restaurant, Firenze Osteria. Fabio puts a romantic ace up the sleeve of guys everywhere — a lesson on how to make an easy and delicious Valentine's Day dinner for two featuring an Italian classic, Chicken Marsala, and a sexy Strawberry Champagne Risotto. Flames, champagne and Fabio! Valentine's Day can't get any more Fabioloso!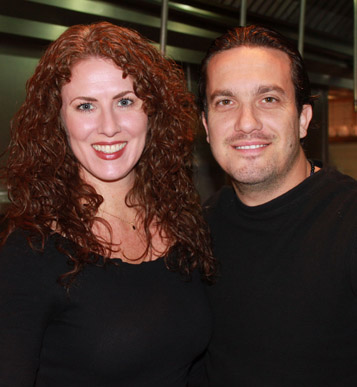 Top Chef Fabio Viviani is big smiles, huge laughter and full of charm. He's Italian and sexy, and has a great sense of humor. He's casual, polite and oh, that accent. Fabio rolls r's in words that don't have r's. He has a story for everything and everyone is listening. Fabio Viviani is flat out entertaining and it's no surprise he is the fan favorite of Bravo's Top Chef.
Being in the kitchen at Firenze Osteria with Fabio Viviani is surreal. On one hand, I'm in a local restaurant with a local restaurateur — the atmosphere is warm and inviting; I feel the comfort of home. On the other hand, I watch Top Chef every week and Fabio Viviani is a star, so it's no surprise, I'm a bit starstruck. And speaking of stars, I thank you, lucky stars, for aligning to make this special Valentine's Day cooking demo and interview with Chef Fabio happen! By the way, you should follow Fabio on Twitter.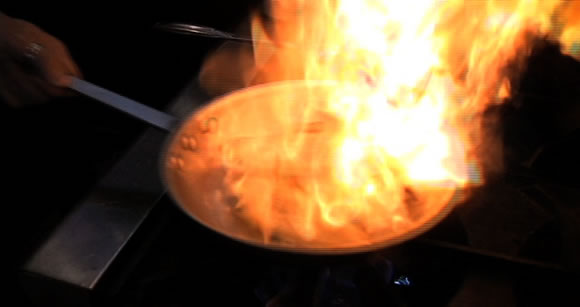 VALENTINES DAY The Top Chef All Star tells me he'd rather stay home for Valentine's Day to cook for his lady, because he wouldn't want another chef to impress his "better half." Fabio recommends avoiding foods that can make your breath stink and that you should, "Get to the food that is playful. So maybe you can hand feed each other. Maybe you have a quick meal, and then you go for a movie or something."
SEXY TIME When I ask Fabio if he has ever cooked a meal specifically to get "sexy time" with someone, he laughs and questions me, "What? I am Italian! That's why our meals are really rich cause then you do need an excuse to burn calories and what gym is open at 10 or 11 o'clock at night?"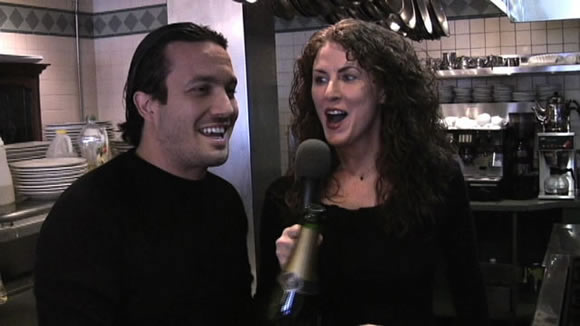 MAN CAVE I also ask Fabio if he has a "man cave" at home with his two turtles. He replies, "You know what? I can not afford a man cave. I would love to have a man cave in my house but I just bought a little house. It's very small. My house is like 1000 square feet so, it's already a cave itself. So my house is a cave. I have a gorgeous 14 by 9 foot couch, 60 inch plasma, XBox, Play Station 3, a kick ass kitchen… it is a little corner of heaven. Man heaven."
CRAVINGS When I ask, 'What do you crave here in America that you can only get in Italy?" Fabio pauses, takes a deep breath and replies, "That's a good question. I crave in America, that I can only get in Italy, the expectation before a meal. Whenever you go to Italy and you sit down at the table, the expectation of what's coming up is building and building. Because you talk about what you're going to eat for three hours. As soon as you get up in the morning you're going to talk about it. As you have breakfast you talk about what you're going to do for lunch. So by the time you are at lunch, you've already had the whole nine yards, you just have to consume it."
MARSALA-LA-LA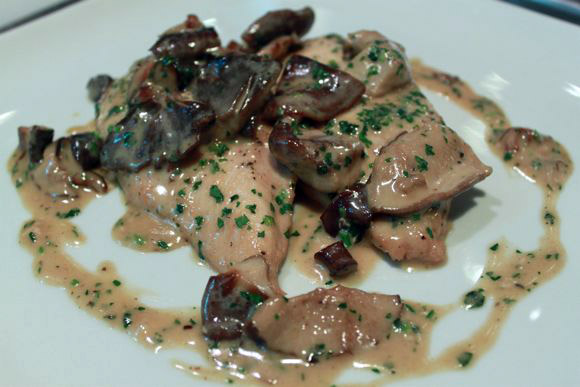 Although I can't recommend the pyrotechnics of Chef Fabio for home cooks, his Chicken Marsala is as traditional and Italian as Fabio, himself. Three kinds of mushrooms, Marsala wine, heavy cream and just the right amount of machismo reduce into pure Fabioloso! Watch the video to see how Fabio does it. Get the recipe here.
LADIES LOVE FIREMEN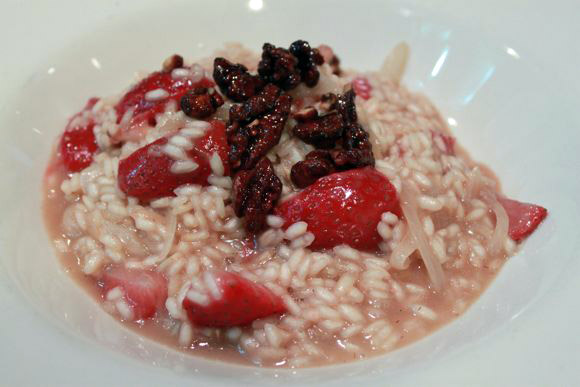 If you can open a bottle of champagne, you can make Fabio Viviani's Strawberry Champagne Risotto, a sexy and seductive dish for Valentine's Day. Watch the video for instruction and entertainment. Get the recipe here.
FABIO! FABIO! WHERE FOR ART THOU FABIO?
Take a Valentine's Cooking Class with Fabio! On February 13, 2011 from 12:00PM – 2:00PM Fabio will be teaching his fresh pasta and gnocchi class in Los Angeles at Firenze Osteria. The class is $40 dollars per person or $70 dollars for a couple and includes lunch in the restaurant. There are a limited number of spaces left so make your reservation today.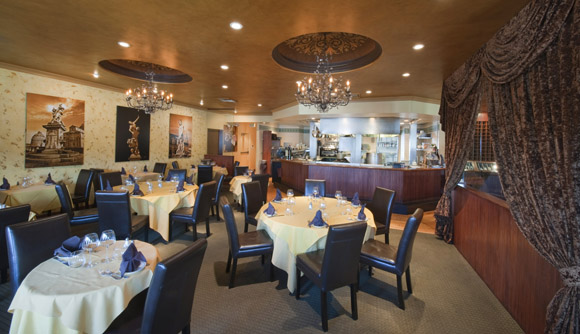 LET FABIO DO THE COOKING ON VALENTINE'S DAY!
Dine in one of Fabio's restaurants this Valentine's Day. The Valentine's feast shown below is $50 per person and available the evening of Valentine's Day (Monday, February 14, 2011). The regular menu will also be available. Expect lots of romantic entertainment in the restaurants if you visit, including Italian singers and guitarists. At Cafe Firenze, Fabio has a photo booth set up as well.
Crudo of Hamachi, with Chili Oil, Fried Shallots and Lemon Zest
Champagne Risotto with Strawberry and Walnuts
Olive Oil Poached Escolar with Corn Puree and Sweet and Sour Capponata
Grilled Lamb with Carrots Ginger Puree and Green Onion and Bacon Creme Fraiche
Oilve Oil Cake with Blueberry Jam and Mascarpone Strawberry Ice Cream
Special thanks to Top Chef Fabio Viviani, Firenze Osteria, and Cherry Hepburn of Putnam & Smith for making this cooking demonstration possible.