Y
Click for printer-friendly version!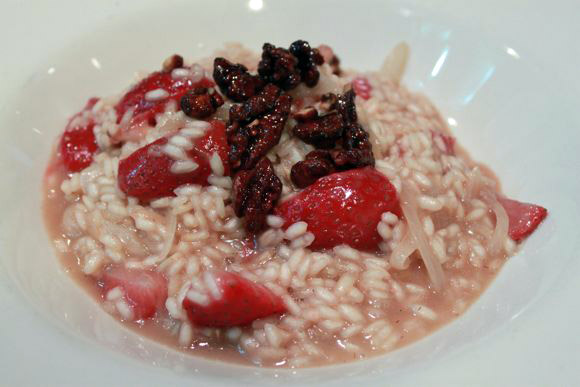 Top Chef All Star Fabio Viviani shares his sexy recipe for Champagne Strawberry Risotto, perfect for a romantic dinner for two. Watch Chef Fabio in Fabioloso! for added instruction and entertainment.
Get Fabio Viviani's Chicken Marsala Recipe also featured in the video here.
Ingredients for Champagne Strawberry Risotto:
2 cups Arborio rice
1 tbsp butter
1 shallot, thinly sliced
1 cup champagne
1 quart vegetable or chicken stock
1 cup strawberries
1 tsp sugar (if desired)
salt & pepper to taste
5-6 candied walnuts
Note: Serves two.
Directions:
1. In a saucepan over medium-medium high heat, caramelize sliced shallot in butter.
2. Add rice, stirring until butter is absorbed.
3. Stir in champagne being cautious of flare-up. Reduce.
4. Stir in stock and reduce until creamy, 25-30 minutes.
5. Add salt and pepper to taste.
6. When rice is cooked and mixture is creamy, gently stir in strawberries.
7. Garnish with candied walnuts and serve piping hot.