Y
FIRST BITE BACKSTORY


Going on and on about In-N-Out is nothing new around here. I gush about the soft bun that cradles grilled onions, gooey cheese, crisp lettuce and juicy meat patties whenever I get the chance. So when I heard Jeff Houck, Food Editor of The Tampa Tribune, and I would be in Las Vegas at the same time for BlogWorld–TECHmunch, I knew it was my duty to play matchmaker and arrange for his very first Double-Double. Albeit a more sober and cheesy version, Jeff may have had a Double Rainbow moment with his first Double-Double at In-N-Out, Las Vegas. Watch Double-Double Rainbow to see for yourself…
TRIPLE RAINBOW?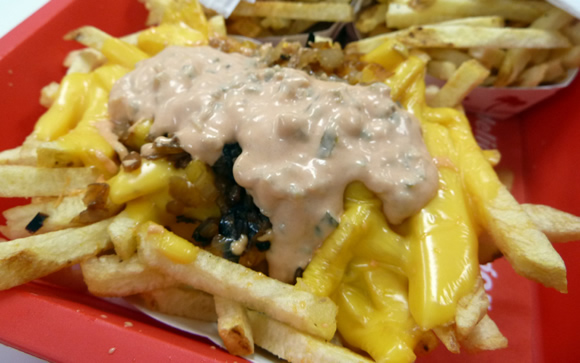 For the many culinary adventures Jeff writes about in The Tampa Tribune, his column and on Twitter, it's nothing short of a miracle that he hadn't experienced In-N-Out yet. Jeff's Special Report Series Underbelly Tours investigates the back-road diners and dives from around the world, all hidden within the Tampa culinary canopy. Jeff has seen and eaten things most of us never have or will, so the absence of In-N-Out in his epicurean diary was a crying shame.
THE SECRET IS OUT
Surely Jeff had read all about the gooey, cheesy dripping food porn that abounds at In-N-Out. He may have even heard about the In-N-Out Secret Menu featuring Animal Style burgers and fries.
But Jeff had never seen the bustling burger joint in person. He had never feasted his own two eyes on a glistening mass of Animal Fries, or taken a bite of a Double-Double and tasted the fast-food-burger pride of the West Coast for himself!
But we fixed all that one typically hot and sunny day in Vegas… at one typically busy In-N-Out.
BURGER ZEN


Like all things in Vegas, even the In-N-Out is magical. Rumored to be the busiest location in the country, Jeff describes it as "burger zen." And it's easy to see why: A super small menu, a smooth running –dare I say well-oiled– operation, and burgers and fries that put a smile on your face. In a town that serves up $5,000 burgers, you might not be surprised to find out it's also the locals' favorite.
Follow Jeff on Twitter to get Top Chef play-by-plays and humorous, off-the-cuff tweets you won't get from just any Food Editor from a major news outlet. Get in on Jeff's trending topics, such as #WeekendEats where tweeps share what they noshed while watching football or grilled for dinner with friends over the weekend. If you can't pick up a copy of The Tampa Tribune, you can find Jeff's column online.
Photos #2 #4 #5 credit Jeff Houck.