Y
Click for printer-friendly version!


The Endless Summer of Salad continues! This simple salad is one of my all-time favorites. It's light yet satisfying, and did I mention simple? This recipe makes two starter/side salads or one entree salad.

Ingredients for Tostada Salad:
For the tostada:
2 baked corn tortillas
2 tbsp refried beans
1/4 cup shredded cheese (such as Monterey Jack)
For the salad:
1 cup shredded cabbage
1 -2 tbsp chopped green onion
1/3 cup diced tomato
1/4 cup diced avocado
1 – 2 tbsp chopped cilantro
For the dressing:
1 tbsp rice vinegar or lime juice
1/2 tbsp olive oil
dash soy sauce
NOTE: For a creamier dressing, substitute mayonnaise for olive oil.

Prepare corn tortilla tostada. Brush or spray corn tortillas with oil and lightly salt. Bake in a preheated 400 (F) oven for 8-10 minutes or until golden brown and crispy.

Prepare salad. While tostadas are baking, combine cabbage, green onion, tomato and cilantro in a bowl.

Toss and add vinegar or lime juice, olive oil and dash of soy sauce. Toss again and add black pepper and avocado. Toss gently until combined.

To build the salad, spread one tablespoon refried beans over baked corn tortilla tostada.

Top with shredded cheese and microwave (or return to oven) just until cheese is melted.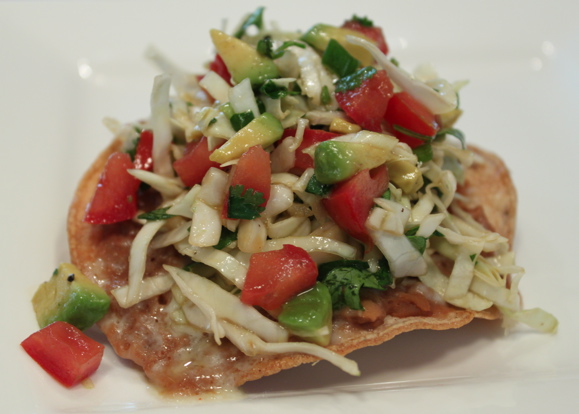 Distribute tossed salad over baked tostada. Enjoy immediately.