Y
WATCH THE VIDEO!
I'm certainly no expert on Louisiana cuisine, but you don't have to hang out on the bayou to know that a dark, rich roux is the key to making a proper gumbo. Like many great Southern food favorites, low and slow holds true for the roux of a gumbo too.
Ingredients for Roasted Potato Gumbo:
4-6 medium sized Idaho Gold Potatoes
1 pound Andouille sausage
1 pound shredded chicken breast
40 ounces chicken broth or stock
1/2 cup all-purpose flour
1/3 cup cooking oil
1/2 cup tomato sauce
1 cup diced onion
1/2 cup diced celery
1/2 cup diced carrots
1/2 cup diced sweet red bell pepper
2 TBSP Cajun seasoning
1 TBSP Worcestershire sauce
1 TBSP minced garlic
1/2 teaspoon cayenne pepper
1/2 teaspoon smoked paprika
1/2 teaspoon Old Bay Seasoning

NOTES:
Serves 4-6. All Cajun seasoning blends vary but the one I use is basically paprika, garlic, onion, cayenne, oregano, thyme and salt. Adjust seasonings based on the combination of spices and heat of your seasoning blend. For added instruction and entertainment, watch the POTATO GUMBO Video.
Directions for Oven Roasted Potatoes:
1) Wash and chop potatoes into bite-sized pieces.
2) Toss with olive oil and season as desired.
3) Distribute potatoes in a single layer on a baking sheet.
4) Bake in a 425 (F) preheated oven for 30-40 minutes, or until golden. Turning the potatoes mid-way through will produce a more evenly roasted potato.
Directions for Andouille Sausage and Chicken Gumbo:
1) In a large pot over medium heat, brown sausage.
2) Add onion, celery, carrots and peppers. Cook until vegetables are tender.
3) Remove sausage and vegetables from the pot and set aside.
4) In the same pot over medium heat oil and whisk in flour to make a roux. Cook roux over a low heat until a deep golden peanut butter color. This may take up to an hour.
5) Add back the sausage and vegetables and stir in chicken broth.
6) Add tomato sauce, Cajun seasoning and Worcestershire sauce. Stir, cover, and allow to simmer for at least 30 minutes.
7) Add garlic, cayenne and smoked paprika. Stir well, cover, and allow to simmer another 30 minutes.
8) Finish with Old Bay Seasoning and cooked shredded chicken. Bring to gentle bubbling and serve over roasted potatoes.

For added instruction and entertainment, watch the POTATO GUMBO Video.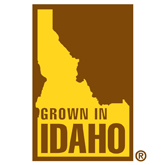 For more great recipes using Idaho Potatoes, check out the Idaho Potato Commission Website.

Don't miss a video… SUBSCRIBE TO MY CHANNEL ON YOUTUBE!