Y
WATCH THE VIDEO!
What could be better than wontons with an Idaho Potato twist? How about finding out you don't need to be an origami master to make them?
Ingredients for Potato Wontons Filling:
2 medium Idaho Russet Potatoes
1 cup chopped mushrooms
1/3 cup diced onion
1/4 cup diced sweet red pepper
1 TBSP diced serrano chili pepper
2 TBSP minced ginger root
1 TBSP minced garlic
2 TBSP cream cheese
1 – 2 TBSP soy sauce
approximately 36 wonton wrappers
Ingredients for Spicy Dipping Sauce:
2 TBSP soy sauce
1 TSP rice vinegar
1 TBSP toasted sesame oil
1 TBSP honey
1 TBSP Asian hot sauce (like Sriracha)
1 TBSP finely minced ginger root
1 clove finely minced garlic

NOTES:
Makes approximately 36 Potato Wontons. For added instruction and entertainment, watch the Potato Wontons Video.

Directions for Potato Wontons:
1) Combine all ingredients for the spicy dipping sauce and set aside until ready to serve.
2) Peel and chop Idaho Russets. Cook just until al dente, season with coarse salt and mash. Set aside.
3) Saute onion, red pepper, serrano pepper, ginger and mushrooms over medium heat. Season with soy sauce and turn down the heat when flavors begin to combine.
4) Add garlic and mashed potatoes.
5) Stir in cream cheese and remove from heat.
6) Remove wonton wrapper from package and wet the perimeter with a little bit of water.
7) Place about a teaspoon of potato mixture in the center of the square.
8) Fold the square into a triangle, sealing the potato mixture inside. Continue filling and folding all of the wontons you are going to fry.
9) Heat about an inch of cooking oil in a heavy pan.
10) Place wontons in oil and fry until puffed and golden.
11) Serve with spicy dipping sauce.

For added instruction and entertainment, watch the Potato Wontons Video.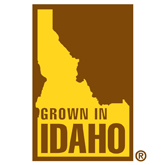 For more great recipes using Idaho Potatoes, check out the Idaho Potato Commission Website.

Don't miss a video… SUBSCRIBE TO MY CHANNEL ON YOUTUBE!