Y
WATCH THE VIDEO!
Enjoy Potato Corn Fritters as an appetizer topped with chipotle cream, or devour as a side, served with grilled shrimp and mashed avocado.
Ingredients for Potato Corn Fritters:
1.5 cups Idaho Russet Potatoes, peeled and cubed
1 cup corn
1 serrano chili pepper, diced and seeded
1/3 cup onion, diced
1/2 teaspoon cayenne pepper
2 large eggs, beaten
1 TBSP all-purpose flour (optional)
Ingredients for Chipotle Cream:
1/2 cup mayonnaise, sour cream or creme fraiche
1/4 cup adobo sauce from chipotle chili peppers

NOTES:
Makes about 24 appetizer-sized fritters. To make in advance and reheat, follow directions to Step 9 (below). Allow to cool and refrigerate. To reheat, place in a single layer on a baking sheet and bake in a preheated 375(F) oven for 10 minutes, until heated through. For added instruction and entertainment, watch the Potato Corn Fritters Video.
Directions for Potato Corn Fritters:
1) Combine mayonnaise and adobo sauce to make Chipotle Cream. Refrigerate until ready to use.
2) Cook potatoes until tender, about 20 minutes.
3) Drain the cooking water from potatoes and mash with salt and pepper.
4) Add corn, serrano pepper and onion. Combine well.
5) Season with cayenne pepper and fold in beaten eggs.
6) Stir in tablespoon of flour if desired.
7) In a heavy skillet over medium heat, add enough vegetable oil to coat bottom of pan.
8) Spoon fritter batter into oil, frying until golden on both sides.
9) Drain excess oil on paper towels and season with salt.
10) Top with chipotle cream and a sprinkle of chipotle chili powder and serve.

For added instruction and entertainment, watch the Potato Corn Fritters Video. There is singing.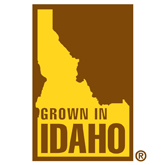 The Average Betty Test Kitchen developed this recipe and produced this video on behalf of the Idaho Potato Commission.
For more great recipes using Idaho Potatoes, check out the Idaho Potato Commission Website.

Don't miss a video… SUBSCRIBE TO MY CHANNEL ON YOUTUBE!