Y
WATCH THE VIDEO!
Pimento Cheese is lovingly known as the Caviar of the South. Most commonly prepared as a spread made with cherry peppers, cheddar cheese and mayonnaise, and served as a sandwich spread or dip.
This, dare I say elegant Pimento Cheese Potato Gratin is based on a recipe from Chef Cameron Thompson of Two Urban Licks, Atlanta, GA.

Don't miss a video… SUBSCRIBE TO AVERAGEBETTY on YouTube!

Ingredients for Pimento Cheese Potato Gratin:
5 Idaho Russet Potatoes, thinly sliced (about 3 pounds)
3 cups heavy cream
1/2 cup pimentos
3 teaspoons Worcestershire sauce
1/2 teaspoon cayenne pepper
1 teaspoon smoked paprika
1 1/4 TBSP coarse salt
5-6 sprigs fresh thyme
2 TBSP butter, melted
1 1/2 cups sharp cheddar cheese, grated
NOTES:
Serves 10-12, prepared in a 9×7 casserole. If you do not have fresh thyme, simply omit this ingredient. Do not substitute dried thyme. For added instruction and entertainment, watch the Pimento Cheese Potato Gratin Video.
Directions for Pimento Cheese Potato Gratin:
MAKE THE PIMENTO CREAM:
1) In a saucepan over medium-low heat, combine cream, pimentos, Worcestershire sauce, cayenne pepper, smoked paprika, coarse salt and thyme sprigs.
2) Cook and stir until dry spices are dissolved and the mixture begins to bubble, thicken and is reduced by 1/3.
3) Remove thyme stems, leaving leaves in mixture. Set aside.
PREPARE THE POTATOES:
1) Scrub and peel (if desired) Idaho Russets.
2) Using a sharp knife or mandolin, thinly slice potatoes.
3) Plunge potatoes into cold water bath to prevent browning.
BUILD THE CASSEROLE:
1) Distribute melted butter in the bottom of a casserole dish.
2) Layer potato slices and pimento cream into dish.
3) Midway through layering, distribute half of the shredded sharp cheddar cheese.
4) Continue layering potato slices and pimento cream until all ingredients are used.
5) Top with the remaining sharp cheddar cheese and cover baking dish with aluminum foil.
BAKE THE CASSEROLE:
1) Bake covered casserole in a preheated 325(F) oven for one hour.
2) Uncover and continue baking for 40-60 minutes, until potatoes are tender and top is crusty and browned.

Never miss an instructional cooking video! SUBSCRIBE to my channel on YouTube.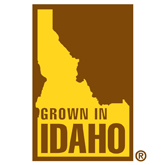 For more great recipes using Idaho Potatoes, check out the Idaho Potato Commission Website.