Y
WATCH THE VIDEO!
Making candy isn't the easiest thing in the world. This Heartbreaker Nut Brittle is worth the struggle.
Candy making is hot and sticky. So, it's a little more dangerous than your typical dessert. Candy also requires your undivided attention and your most agile culinary reflexes. You've got to tap your keenest intuition and above all else, you must believe you will persevere over the Nut Brittle.
To throw an extra curve ball, I developed this Nut Brittle Recipe without corn syrup. It's not an ingredient I keep on hand and so, this candy is slightly more temperamental than your typical nut brittle. Watch the Heartbreaker Nut Brittle Video for added instruction and entertainment.
Ingredients for Heartbreaker Nut Brittle:
3 cups nuts (blistered peanuts, raw almonds, macadamia, walnuts)
2 cups granulated sugar
1 1/2 cups water
1/2 teaspoon salt
2 TBSP butter
1 teaspoon vanilla
1/4 teaspoon baking soda
NOTES:
Makes about 5 cups brittle. Have all of the ingredients and equipment prepared before beginning. Once the sugar changes color you will need to act quickly. It's also important to have even heat when you're making candy. Use a heavy saucepan if possible. If you question your pan or your heating SOURCE, you can put your saucepan into a cast iron skillet to help distribute the heat.
DIRECTIONS:

1) In a saucepan over medium/medium-high heat combine sugar, water and salt.
2) When the mixture comes to a gentle boil and the sugar is dissolved, set a timer for ten minutes.
3) Stirring occasionally, watch for the color to change from clear, to a light amber color. This may take 10 minutes or up to 20, depending on the heat of medium/medium-high on your stove. As soon as the color is a light, golden amber – get it off the heat! If you'd like, use a candy thermometer and when the mixture reaches 300(F) take it off the heat.
4) Working quickly, and stirring continuously, add butter, vanilla and baking soda. The mixture will foam. Continue stirring until the foaming subsides and the mixture starts to get glossy.
5) Stir in the nuts all at once and quickly turn out onto a silicon baking mat or very well greased baking sheet.
6) Flatten the mixture as needed and allow to cool for about 20 minutes, until brittle.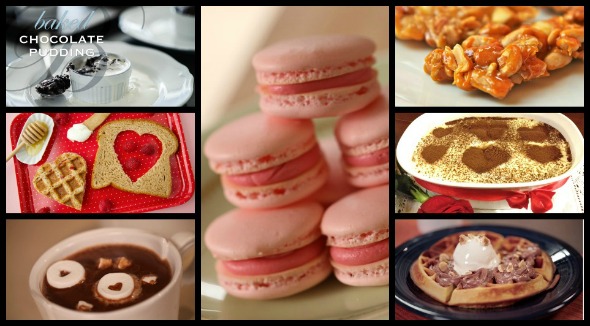 Watch the Valentine' Day Dessert Spectacular!
Have YOU subscribed to my channel on YouTube?