Y
WATCH THE VIDEO!
It's nice to have a quick snack on hand. It's even nicer when that snack is as quick and easy to make as it is to eat. These No Bake Granola Bars are both.
Ingredients for No Bake Granola Bars:
1 cup peanut butter
3/4 cup honey
2 3/4 cups oats
1 TBSP chia seeds
1/4 cup chopped dried cranberries
1/4 cup chopped semi-sweet chocolate chips
NOTES:
Makes about 36 granola squares. To vary the taste, experiment with different stir-ins. Wrap individually and store, refrigerated, for about a week. For added instruction and entertainment, watch the No Bake Granola Bars Video. This recipe adapted from The Joy of Everyday Cooking.
Directions for No Bake Granola Bars:
1) In a saucepan over low heat, combine peanut butter and honey. Stir until melted.
2) Add oats and other mix-ins and stir to combine.
3) Press mixture into a 9×9 baking pan lined with wax or parchment paper.
4) Allow to set up for several hours or overnight.
5) Cut into squares.
6) Enjoy.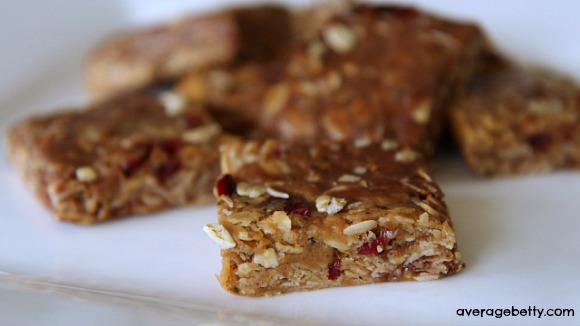 Don't miss a video… SUBSCRIBE TO MY CHANNEL ON YOUTUBE!