Y
WATCH THE VIDEO!
Meatballington is the Beef Wellington of Meatballs. And while Meatballington is impressive, it's deceivingly simple to prepare if you're using leftovers.
Think outside the Meatballington by using different meatballs, sauces and cheese. What about a Barbecue Cheddar Meatballington? — Or a Teriyaki Chicken Meatballington? The possibilities are endless. Use the following ratios, not necessarily recipes, as a guide.
Ingredients for Meatballington:
1 pound Pizza Dough
6 Meatballs
2 cups tomato Sauce or Meat Sauce
1 cup mozzarella cheese, shredded
1/4 cup Parmesan cheese, garnish

NOTES:
Makes 6 Meatballingtons. One pound Pizza Dough will wrap 6, 3 ounce meatballs. Try other shredded cheeses and different meatballs for a varied taste. Check out The Potato Volacano for something even more decadent. For added instruction and entertainment, watch the MEATBALLINGTON Video. For even more instruction and entertainment, watch the MEATBALL MADNESS Video. For way too much entertainment watch Pizza Dough Do's and Doughn'ts. Don't say I didn't warn you, it's way too much entertainment.

DIRECTIONS:
1) On a floured board, roll a 2.5 – 3 ounce piece of dough into a 6″ circle.
2) Top with a couple tablespoons shredded mozzarella, provolone, or similar.
3) Place saucy meatball on top of cheese.
4) Wrap the dough to cover the meatball, sealing.
5) Place dough-wrapped meatball, seam side down on a baking sheet. Brush with olive oil and sprinkle with a little more cheese.
6) Bake in a preheated 350(F) oven for about 40 minutes, until golden brown.
7) Top with sauce and a little Parmesan cheese.
8) Share and enjoy.

Have YOU subscribed to my channel on YouTube?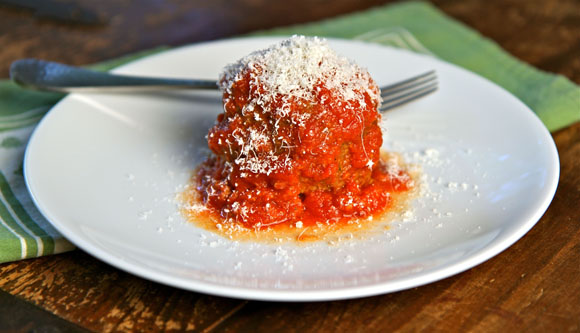 Get the Classic Meatballs Recipe.

Get the Easy Pizza Dough Recipe.

Get the Meat Sauce Recipe.