Y
WATCH THE VIDEO!
I'm part of a family that has a very particular opinion on meatballs.
A meatball is classic. A meatball is basic. A meatball is juicy, tender yet firm, delicately seasoned and made of all ground beef.
This standard was set long ago by a Grandmother in Northern California that made meatballs so legendary, there were stories told, secrets kept, and of course, sibling competitions over who could replicate this ideal meatball the best.
This meatball was built up to be so magical and mysterious, I was practically frightened to make meatballs around family.
When I finally had a direct descendant of Grandma Meatball in my home, I questioned her. I quizzed her.
I asked her every detail of the mythical meatball process. Noticing my exasperation, she said, "You just make a good meatball!"
So that's what I did. I listened to the stories, I observed the matriarchs in my family and I did what every home cook has to do every once in awhile: I just made good meatballs!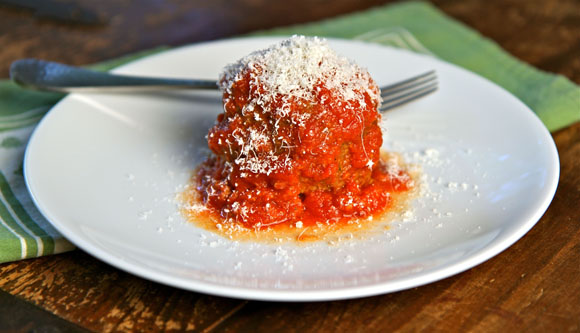 Ingredients for Classic Meatballs:
3 lbs. ground beef (80/20 mix)
1/2 cup onion, finely chopped
3 cloves garlic, minced
1 TBSP dried Italian parsley
1/8 teaspoon crushed red pepper flakes
1/4 tsp dried Italian herb blend
1 teaspoon salt (black pepper if desired)
1 cup Panko bread crumbs
2/3 cup tomato sauce
3 large eggs, beaten
Ingredients for Sauce:
1/3 cup celery, finely chopped
1/3 cup carrot, finely chopped
1/2 cup onion, finely chopped
3 cloves garlic, minced
3/4 cup white wine
1 TBSP dried Italian parsley,
1/4 teaspoon Italian herb blend
1/4 crushed red pepper
1 teaspoon salt
3 cups diced tomatoes
1/3 cup half-n-half or cream
3 cups tomato sauce
3 cups tomato puree
1 bayleaf
1 lb. spicy Italian sausages, browned

NOTES:
Makes 20-24 large meatballs or 42-48 mini-meatballs, and sauce. I use Panko breadcrumbs because I think they make for an airy meatball. Use breadcrumbs of your choice. For added instruction and entertainment, watch the MEATBALL MADNESS Video.
DIRECTIONS:
1) In a large bowl combine all ingredients for the meatballs.
2) Shape into similar sized balls. Set aside (in the refrigerator).
3) Over medium heat, brown sausages in a tall-sided pot. Remove from pot and set aside.
4) Next, brown the meatballs on all sides in the same pot, or place on a baking sheet and bake in a preheated 375(F) oven for 20 minutes. If browning in the pan, remove excess grease, leaving behind browned bits before moving on to the next step.
5) Into the tall-sided pot, over medium heat, add carrot, celery, onion and garlic.
6) Deglaze the pan with half of the white wine. Increase the heat to medium-high and get any browned bits off the bottom of the pan.
7) Add parsley, Italian herb blend, crushed red pepper and salt.
8) Allow to reduce a few minutes, then add the rest of the wine.
9) Add diced tomatoes and allow to cook a few minutes.
10) Add the cream and continue cooking and stirring until incorporated.
11) Add the tomato sauce and puree and stir in the bayleaf.
12) Carefully add the sausages and meatballs to the sauce and reduce the heat to low. Cover and simmer at least an hour.

For added instruction and entertainment, watch the MEATBALL MADNESS Video, give it a thumbs up and please subscribe to my channel on YouTube.