Y
WATCH THE VIDEO!
Are they Cinnamon Rolls or Cinnamon Buns? I asked my Facebook and Twitter friends and the overwhelming response was Cinnamon Rolls. The second most popular response? Delicious!
Idaho Klondike Goldust Potatoes are the secret ingredient that make these Cinnamon Rolls tender and irresistible.
Ingredients for Idaho Potato Cinnamon Rolls:
Cinnamon Rolls Dough:
1 pound Klondike Goldust Potatoes, peeled, cut into 2-inch pieces
1 TBSP coarse kosher salt
1/2 cup butter
3 large eggs, beaten
4 1/2 cups unbleached all purpose flour
1/2 cup warm water (115°F – 120°F)
2 TBSP active dry yeast
2 TBSP light brown sugar
Cinnamon Rolls Filling:
1 1/3 cups (lightly packed) golden brown sugar
2 1/2 TBSP ground cinnamon
3 TBSP unbleached all purpose flour
1/2 cup butter, cold
Cinnamon Rolls Glaze:
2 cups powdered sugar
2 TBSP butter, melted
2 – 3 TBSP milk
1 teaspoon vanilla extract
1/4 teaspoon coarse kosher salt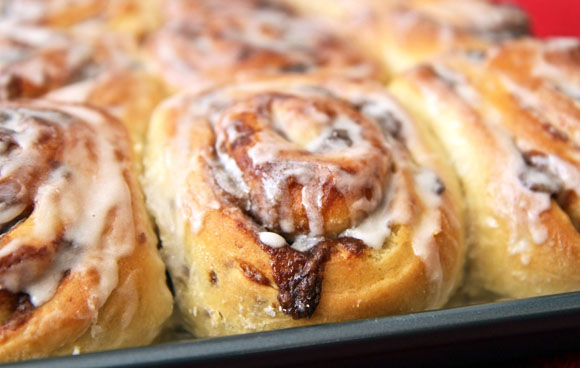 NOTES:
Recipe adapted from Bon Appetit. Makes 12 large Glazed Cinnamon Rolls, similar to Cinnabon. For added instruction and entertainment, WATCH THE VIDEO.
Directions for Idaho Potato Cinnamon Rolls:


MAKE THE DOUGH:
1) Combine potatoes, 2 cups water, and 1 tablespoon coarse salt in large saucepan. Boil, uncovered until potatoes are very tender, 15 to 18 minutes.
2) Mash potatoes with water in pan (do not drain water). Add butter and mash until butter is melted. Allow potatoes to cool and whisk in eggs until very smooth and custard-like. Set aside.
3) In the bowl of a stand mixer fitted with a dough hook attachment, dissolve 2 TBSP brown sugar with 1/2 cup warm water. Stir in yeast and allow yeast to get foamy, about 10 minutes.
4) Add potato mixture to yeast mixture; mix on low speed until combined.
5) Begin adding flour, one cup at a time until a sticky dough forms.
6) With oiled hands, remove the dough from hook, knead into a ball and place into an oiled bowl. Cover bowl with plastic wrap, then a kitchen towel. Let dough rise in warm draft-free area until doubled in size, about 1 hour.
MAKE THE FILLING:
1) In a medium bowl, whisk together brown sugar, cinnamon, and flour. Using your fingers or a pastry blender, incorporate cold butter until mixture resembles wet sand. Set aside.

MAKE THE ROLLS:
1) Turn dough out onto large, well-floured work surface.
2) Press, then roll out dough to 24×16-inch rectangle.
3) Sprinkle filling evenly over dough.
4) Starting at 1 long side, roll up dough jelly-roll style, enclosing filling.
5) Using large knife dipped in flour, cut roll in half, then cut each half into 6 even pieces.
6) Place rolls on a baking sheet, lined with wax paper or a silicone baking mat, fairly close together.
7) Allow the rolls to rise again in a warm draft-free area until almost doubled in volume, about 20 minutes (rolls will be very puffy).
8) Bake cinnamon rolls until golden, in a preheated 425°F about 20 minutes. Cool rolls about 10 minutes on baking sheet before glazing.

MAKE THE GLAZE:
1) While the rolls are baking, whisk together powdered sugar and coarse salt.
2) Whisk in milk, then melted butter. Whisk in vanilla. If glaze is too thick, add more milk by the 1/2 teaspoonful as needed.
3) Drizzle glaze over warm rolls.
4) Share and enjoy!

Never miss an instructional cooking video! SUBSCRIBE to my channel on YouTube.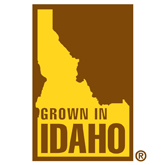 For more great recipes using Idaho Potatoes, check out the Idaho Potato Commission Website.