Y
Click here for printer-friendly recipe!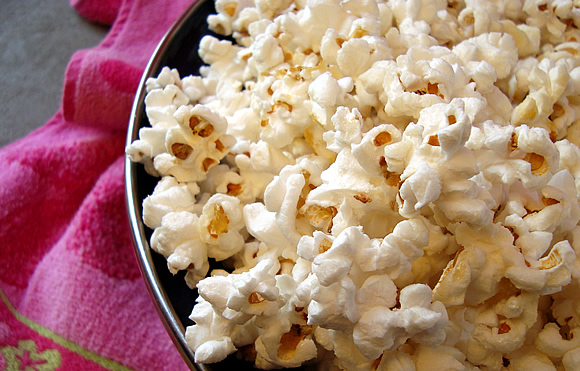 Crunch into a bowl of sweet, salty Kettle Corn with Lauren & Gillian! Kettle Popcorn just may be the perfect summertime snack… ADULT SUPERVISION RECOMMENDED!
Ingredients for Kettle Popcorn:
1/2 cup sugar
1/2 cup white popcorn kernels
1/3 cup oil (corn, vegetable, canola)
1/4 – 1/2 tsp salt
NOTES: A heavy, four quart saucepan is the perfect size for this recipe. Oven Mitts will protect your flesh. Wear them. You'll thank me later.

Safety First! Hot oil and popping projectiles, not to mention a lot of vigorous shaking of kitchen equipment can make for dangerous conditions in the kitchen! You may consider suiting up just to eat this stuff! Alright. Not really. But be sure to watch the video, Popcorn Stars!
Let's get poppin'!


Pour oil in saucepan, cover with lid and heat over medium-high heat for 3-4 minutes. Oil should be heated, but not smoking. See the reflection of the camera in the oil? This makes me feel like the M. C. Escher of Kettle Corn.

Remove lid and pour popcorn kernels into the pan all at once.

Pour in sugar all at once.

Stir the kernels and sugar into the oil. This allows for more even distribution of the sugar. Work quickly; kernels may begin popping at any time.

Replace lid and begin shaking pan in a circular motion. Continuous shaking ensures that the sugar will not burn, stick or clump. This is quite an arm workout, btw.

After 4 – 5 minutes, when popping has stopped, you will have a pan full of popped, hot, scorching, sticky, burn-inducing Kettle Corn. And possibly a sore arm.

Carefully… like with oven mitts on… pour the hot, sticky Kettle Popcorn into a bowl. You will notice some un-popped kernels. Get over it. I wonder if it has something to do with the sugar that there seems to be more "Old Maids" in Kettle Corn than regular Popcorn. If you fret about popping every kernel, you'll ultimately burn the batch… and that really is a tragedy.

Salt to taste, 1/4 – 1/2 teaspoon. The salt really helps bring out the sweet and makes it taste just like the stuff you get at the fair. If not better :) Store or transport cooled Kettle Corn in an airtight bag or container.

Search terms: averagebetty, teen, tween, betty, kettle corn, popcorn stars, kettle popcorn, county fair recipes, best popcorn recipe, homemade kettle corn recipe, after school snack recipe, summertime snack, salty, sweet, fun recipes, recipes for kids, adult supervision recipes
Link to the Popcorn Stars video.
Link to the Popcorn Stars! blog post.
Looking for more snacks?
Coconut Shrimp
Chicken Strips with Dipping Sauces
Hummus with Vegetables and Fresh Pita Chips
Mini-Burgers
Jalapeno Poppers
BBQ Chicken Pizza
Nah, show me the sweet stuff!
White Chocolate Macadamia Nut Cookies
Blazin' Creme Brulee
Double Chocolate Cookie Sundae with Chocolate Fudge
Easy Peanut Butter Marshmallow Squares
Sugar Cookies with Easy Icing
Chocolate Pudding Filled Chocolate Cupcakes with Vanilla Buttercream Frosting
Easy Ice Cream in a Bag