Y
WATCH THE VIDEO!
This Potato Sausage Frittata is my go-to, one pan meal that is a crowd-pleaser every time.
Hakuna Matata, or "No Worries," is a Swahili phrase that many became familiar with from The Lion King movie. Hakuna Frittata is the "anything goes" attitude to embrace when making frittatas.
Of course, my "anything goes" Frittata has got to have Famous Idaho Potatoes… the rest, I'm pretty willing to compromise. Ham instead of the sausage? Sure. Ricotta instead of the Extra Sharp Cheddar? You got it.

Ingredients for Potato Sausage Frittata:
1 Idaho Russet Potato, about 10 ounces (1 1/2 cups chopped)
2 spicy Italian sausages
1/2 cup diced onion
1/3 cup diced sweet peppers
1 cup halved button or crimini mushrooms
1 cup chopped fresh spinach
6 eggs
1/2 cup shredded extra sharp cheddar cheese
salt and pepper to taste
NOTES:
Serves 6-8. For added instruction and entertainment, watch the Potato Sausage Frittata Video.
Directions for Potato Sausage Frittata:
1) Remove casings from sausage and brown in a skillet over medium heat. Drain excess fat and set aside.
2) Peel and chop an Idaho Russet into uniform pieces.
3) Saute in medium hot pan with a drizzle of olive oil. Salt and pepper to taste.
4) When potatoes begin to turn golden, turn down the heat to medium-low and cover. Allow to steam 5-10 minutes, until al dente.
5) Add onion and sweet peppers to al dente potatoes and saute until vegetables begin to soften.
6) Add back browned Italian sausage.
7) Stir in mushroom halves and chopped fresh spinach. Cook until spinach begins to wilt.
8) Reduce the heat to low and pour beaten eggs over mixture in pan.
9) Cover and cook over low heat 10 minutes.
10) Top with shredded cheese, cover and allow to cook until cheese is melted and eggs are set, about 5-10 minutes more.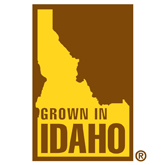 For more great recipes using Idaho Potatoes, check out the Idaho Potato Commission Website.

Don't miss a video… SUBSCRIBE TO MY CHANNEL ON YOUTUBE!